In One Quote, Elizabeth Warren Perfectly Sums Up Why We Need More Women in Politics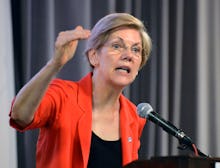 Timothy D. Easley/AP
The quote: "If you don't have a seat at the table, you're probably on the menu."
That's what Sen. Elizabeth Warren (D-Mass.) told a group of about 300 donors at a fundraiser Monday hosted by Emily's List, an organization that works to get more Democratic women into elected office. The $250-a-plate event, held in Manhattan, raised funds for Sens. Jeanne Shaheen (D-N.H.) and Kay Hagan (D-N.C.), whose tense re-election races could help determine the balance of power in the Senate come November.
"Washington works for those who have power. And no one gives up power easily, no one. ... Nobody's just going to say 'women have arrived and let's just move over,'" Warren added. "We have a chance but we have to fight for it."
Why she's right: Now really is a crucial time for women to make themselves heard in D.C. Recent polls indicate that the Republican Party has a slight edge over Democrats going into the midterm elections, and given the GOP's track record on certain women's issues, this is very troubling news. 
There's nothing more "on the menu" than the 468 times state legislatures voted to limit, control or regulate women's reproductive health through just the first half of 2014. Even moderate Republicans have admitted that the power of the anti-abortion lobby has grown so intimidating they don't really have a choice but to vote with it. 
Alderwoman Linda Rallo (R-Mo.) told Mother Jones that many GOP legislators privately expressed frustration with an extreme vote to impose abortion waiting periods on the state's women; Rallo said she feared the legislation would send the signal that the GOP has a "Todd Akin agenda" that doesn't respect the rights of women.
The Guttmacher Institute and the New York Times both confirm that a surge of new anti-abortion measures across states has seriously affected the ability of women to access reproductive health care they need, and in extreme cases they can even face jail time for circumventing abortion restrictions. 
A myriad of problems: But it's not just access to health care that's at risk. A GOP majority in the Senate would all but ensure that no congressional progress would be made on issues like violence against women or equal pay. Senate Republicans recently blocked another vote on the Paycheck Fairness Act, which has languished for over five years. With a congressional majority in both houses, GOP opposition to measures like the Violence Against Women Act could result in watered-down protections against domestic abuse for women.
Given the potential for an electoral upset to usher more politicians opposed to women's rights into Congress by the end of the year, Warren's desire for more women to become involved in politics isn't just a talking point. It's a necessity.