An 11-Year-Old Ferguson Boy's Remarks Just Left Politicians Everywhere Speechless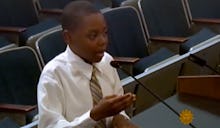 A refreshing voice of reason has emerged from all the disarray in Ferguson, Mo. He's poised, he's speaking truth to power — and he's almost ready for middle school.
The local government's questionable handling of Michael Brown's shooting death this summer has ignited a national conversation about racial profiling and police militarization. Ferguson residents have found themselves thrust into the spotlight, and many have responded with eloquence amid the uproar. One in particular has come to prominence after making a lot of sense at a St. Louis County Council meeting last month.
Meet 11-year-old Marquis Govan, who had more than a few choice words for what local leaders should be doing to address major issues in the area.
"The people of Ferguson, I believe, don't need tear gas thrown at them," Govan said, according to a report from NPR. "I believe they need jobs. I believe the people of Ferguson, they don't need to be hit with batons. What they need is people to be investing in their businesses."
In an interview with CBS News correspondent Jane Pauley, Govan revealed a sophisticated understanding of the underlying problems in his hometown, chiding government officials for focusing too much on the riots and too little on the social and economic conditions that snowballed into mass protests in the first place. 
"The minority community, we need more African-American police officers," he told Pauley, adding that at the same time, he doesn't know many young people his age who dream of a career in law enforcement. When Pauley asked why, Govan expressed once again the sad reality for many black youths across America: They don't feel they have any reason to trust law enforcement officials.
"From the beginning, we've felt abused by these people. Why would you go up to serve among the abusers?" Govan said. "It doesn't make any sense."
Image Credit: AP
Govan's story before he took the microphone speaks volumes in itself. According to the CBS report, he was placed in the foster care system soon after he was born, eventually falling under the care of his great-grandmother, Jennie Bracy. She recalled taking him along with her to the polls to vote when he was 9.
"When I go to the poll, he say, 'Okay, we're voting for this person, that person and that person,'" she said.
Marquis Govan is a beacon of hope, proving that children from Ferguson — and cities just like it all over the country — deserve the opportunity to have their voices heard and talents appreciated. But first, policymakers must work together to relieve racial and economic inequities in the region, so we continue to benefit from Govan's brightness and that of his generation for years to come.