NBC Just Made an Awesome Casting Choice (And Hollywood Should Pay Attention)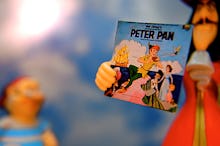 The news: NBC has cast newcomer Alanna Saunders as Tiger Lily for its live-action production of Peter Pan. In doing so, it did what the Hollywood version wouldn't: pick an actress of Native American descent to play a Native American character.
According to the news release, which describes the character as one who "rules her 'islanders' on Neverland and is captured by Captain Hook, only to be rescued by Peter Pan," Saunders descends from members of the Cherokee Nation. 
Saunders will join Allison Williams as Peter Pan, Christopher Walken as Captain Hook and Kelli O'Hara as Mrs. Darling.
This is a big step. In March, news broke that Rooney Mara had been cast as Tiger Lily in Pan, the Warner Bros. retelling of J.M. Barrie's classic tale. The outrage was swift and abundant because, as Entertainment Weekly pointed out, Mara is what can only be described as a "Patrician-featured actress." In other words, she whitewashed the role. 
By casting Saunders, NBC neatly sidestepped such backlash. Warner Bro.'s massive misstep likely played into NBC's decision — and while it's not ideal that it's news that a white woman isn't cast in an indigenous role — it's still an admirable move by NBC.
 As U.S. News notes, according to the most recent report available by the Screen Actors Guild, only 0.3% of TV or film roles cast in 2008 were awarded to Native American actors.
Some may remain critical that this kind of casting still makes news, but as the Mara fiasco shows, we've still got a long way to go before this narrative goes away. Saunders' casting is big news, and it gives a severely underrepresented group some high-profile visibility on screen.