It's Official: Colin Farrell and Vince Vaughn Will Star in 'True Detective' Season 2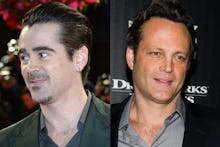 You can retire your #TrueDetectiveSeason2 jokes now. HBO announced on Tuesday that Colin Farrell and Vince Vaughn will star in the second season of 'True Detective,' Nic Pizzolatto's gritty crime noir.
E! Online reports that Justin Lin, who recently spearheaded the pilot of 'Scorpion,' will direct the first two episodes of the eight-episode second season. Production will begin later this fall in California.
Colin Farrell will play Ray Velcoro, a compromised detective whose allegiances are torn between his masters in a corrupt police department and the mobster who owns him.
More casting announcements are expected, as rumors of a female lead have been circulating for weeks. Why aren't there more details right now? As Rust Cohle of 'True Detective' Season 1 would say: