Watch a Pennsylvania State Senator Come Out as Gay in the Most Perfect Way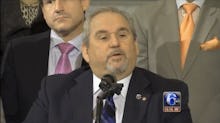 This is how it's done. 
"Hundreds of people know I'm gay," Ferlo said. "I just never made an official declaration. I never felt I had to wear a billboard on my forehead. But I'm gay. Get over it. I love it. It's a great life."
The press conference was to discuss changes to Senate Bill 42 and House Bill 177, two bills sponsored by Ferlo which would expand Pennsylvania's hate crime law to include attacks based on sexuality and gender identity. "The legislature's current push to amend the law was sparked by a Sept. 11 incident in which two gay men were allegedly beaten in Philadelphia," Huffington Post reports. 
Editors Note: Mar. 3, 2015 
An earlier version of this article cited Huffington Post reporting, but did not include quotations around the cited passage. The story has been updated to fully attribute the Huffington Post's language.