13 Foods That Prove Food Labels Are Total Lies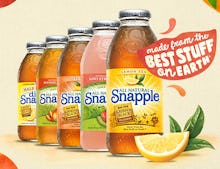 Don't be fooled by the packaging: "All natural" and similar "healthy" phrases on your favorite foods are lies. 
As a result, misleading health claims are rampant in the food industry. While the vast majority of food products are safe, big food companies essentially have carte blanche to market unhealthy foods as good nutritional choices. And food companies often just flaunt the rules, knowing that the main recourse left to consumers — a class-action lawsuit — is both expensive and difficult.
We cataloged 13 of the biggest offenders below.
1. Snapple
What it says: "All natural," with the lovely tagline "Made from the best stuff on Earth!"
What's actually in it: Snapple stopped using high fructose corn syrup in its premium products this year, following an unsuccessful 2011 lawsuit that claimed the company's use of corn syrup made its "all natural" tagline an outright lie. (Notably, the judge ruled in Snapple's favor not because he agreed with the "natural" branding, but because he determined the plaintiffs suffered no harm.) Snapple products still include "natural flavors," so you're just gonna have to trust them on that.
"Made from the best stuff on Earth" is a totally unqualifiable statement — it might as well be "taste the rainbow."
2. Quaker Oats oatmeal, various products
What it says: Claims range from "healthy 100% whole grain Quaker Oats" to having the "tastes of strawberries, peaches, blueberries or ripe bananas." The Quaker Oats website has an entire section dedicated to an oatmeal-based healthy lifestyle.
What's actually in it: This depends on the product, but the Fruit and Cream variety pack manages to contain neither — it's artificially-flavored fruit and nondairy creamer. Other products use various chemical agents for flavor, color and texture. Stick to their "original" oats, which appear to be just that.
3. Crystal Light
What it says: "Natural lemonade"
What's actually in it: Less than 2% natural flavor, and a whole lot of chemicals. Crystal Light backs out of listing the ingredients on their website, but a full listing is fortunately available on Amazon:
"CITRIC ACID, POTASSIUM CITRATE, SODIUM CITRATE, ASPARTAME, MAGNESIUM OXIDE, MALTODEXTRIN, CONTAINS LESS THAN 2% OF NATURAL FLAVOR, ACESULFAME POTASSIUM, SOY LECITHIN, ARTIFICIAL COLOR, YELLOW 5, BHA (PRESERVES FRESHNESS). PHENYLKETONURICS: CONTAINS PHENYLALANINE, CONTAINS: SOY."
For some reason, the FDA has chosen to let Crystal Light continue to peddle its mixture of artificial and highly processed ingredients as "natural" lemonade uncontested, perhaps due to a lack of agency resources.
4. Pop Tarts
What it says: "Naturally and artificially flavored"
What's actually in it: First of all, it's Pop Tarts. These vile things are almost entirely artificial:
Bonus: The gelatin is made from beef.
5. Kashi products, everything from Bear Naked bars to Pita Crisps
What it says: "All natural," "nothing artificial"
What's actually in it: Plenty of artificial crap. After Kellogg acquired the company, Kashi snuck everything from hexane-processed soy ingredients and calcium phosphate to glycerin and tocopherol acetate into its products, leading to a successful $5 million class-action settlement in California. Kashi was forced to relabel its products.
6. Kellogg's FiberPlus Antioxidants Bar ALA Omega-3 Chocolatey Trail Mix
What it implies: With promises of omega-3 fatty acids, fiber and antioxidants, there's no way this isn't healthy!
What's actually in it: Mostly things you wouldn't find on an actual trail, unless that trail happened to be passing through a chemical plant.
The FiberPlus bars seem to have been derived from the company's brand of discontinued FiberPlus cereals, which were maligned by the media in 2010 for having a similar sprawling list of ingredients with misleading health claims.
7. Almond Breeze
What it says: "All natural"
What's actually in it: In addition to the actual almond milk (phew), Almond Breeze includes synthetic vitamins and an additive made from seaweed (carrageenan), the safety of which has been disputed. Here are some other additives:
"EVAPORATED CANE JUICE, CALCIUM CARBONATE, SEA SALT, POTASSIUM CITRATE, CARRAGEENAN, SUNFLOWER LECITHIN, VITAMIN A PALMITATE, VITAMIN D2, D-ALPHA-TOCOPHEROL (NATURAL VITAMIN E)."
Almond Breeze is probably better for you than regular milk, but that's because almond milk is generally healthier, not because it offers a particularly natural or unprocessed product.
8. Simply Cheetos
What it says: "No artificial colors, flavors or preservatives." Over time, these snacks appear to have been marketed as Cheetos Natural, then Simply Natural Cheetos and then simply Simply Cheetos.
What's actually in it: The Snack Pot helpfully explains, if you've somehow fooled yourself into thinking these were healthy, that "Cheetos Puffs Natural White Cheddar Cheese Flavored Snacks are about as natural as a boob job," with not a single ingredient having failed to undergo some type of extensive processing. Here's the ingredient list:
9. Walden Farms Creamy Bacon Dressing
What it says: "Calorie-free, sugar-free, fat-free, carbohydrate-free, gluten-free, cholesterol-free"
What's actually in it: Despite ranting about health like a Dr. Bronners' soap bottle, this is creamy bacon dressing that claims to have zero calories. This would be pretty much impossible without packing some serious chemicals.
Good luck finding out what's in the imitation bacon, which has never come within 50 feet of an actual pig.
10. Cap'n Crunch
What it says: On its website, Cap'n Crunch is marketed as an "excellent source of seven essential vitamins and minerals, is low in fat and has zero gams of trans fat per serving," as well as a "nutritious" part of a child's breakfast.
What's actually in it: You may want to question whether you want to hop on board with the Cap'n, because his cruise line only runs to a heart attack. With a health rating of 3.7/10 on GoodGuide, this isn't a nutritious part of anything. Come on, it's sweetened corn covered in sugar.
11. Coles Supermarket, all their bread
What it says: "Freshly baked"
What's actually in it: A giant scam. Earlier this summer, an Australian federal court ruled that Aussie supermarket company Coles could not continue to market its bread as "freshly baked" and fined the chain $3.3 million. Instead of actually serving up a hot loaf of delicious, fresh-out-of-the-oven bread, Coles was tricking its customers into purchasing frozen bread that had simply been thawed in an oven out back. Whoops! Their bad.
12. Powerade ION4
What it says: According to marketing materials, ION4 is an "advanced electrolyte system" and/or "isotonic sports drink" which will "improve physical and mental performance."
Unless you're a star athlete, Powerade won't do this for you: If you drink Powerade and you're not a competitive athlete, you probably majored in business and know how to crush a can on your forehead. British authorities did conclude that Powerade's claims were scientifically validated, but a CBC News investigation in 2014 revealed that the vast majority of consumers simply don't work out anywhere near hard enough to justify the caloric, sugar and salt content of the beverages. Unless you're working out intensively for more than 60 minutes on a regular basis, Livestrong recommends you steer clear of sports drinks and just drink fresh, cool water.
13. Minute Maid Tropical Punch
What it says: "100% natural"
What's actually in it: Bullshit. Minute Maid Tropical Punch is mostly water mixed with high fructose corn syrup and some juice from concentrate thrown in, and the brand freely admits as much on their website:
CONTAINS PURE FILTERED WATER, HIGH FRUCTOSE CORN SYRUP, PINEAPPLE AND ORANGE JUICES FROM CONCENTRATE, LESS THAN 1% OF: PASSIONFRUIT AND GRAPE JUICES FROM CONCENTRATE, NATURAL FLAVORS, CITRIC ACID (PROVIDES TARTNESS), GRAPE SKIN EXTRACT (FOR COLOR), SUCRALOSE.
Minute Maid's "100% Natural" orangeade, lemonade, watermelon juice and many other products are similarly deceptive ways to repackage sugar water with a low fruit juice content as a healthy beverage. Fortunately, their OJ seems to be the real deal.
Bonus: 
No. Just... no.