Baseball Player Who Played Over 1,000 Games In the Minors Finally Gets First MLB Hit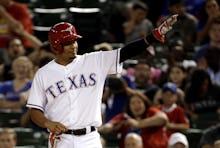 It's the final week of the MLB regular season and chances are, you weren't carving out three hours of your time Monday night to watch the Texas Rangers and Houston Astros.
And if you didn't, what you the fall of a baseball record Monday night, when 30-year-old Guilder Rodriguez collected his first career major league hit after spending 13 seasons in the minors. Heading into the game, Rodriguez was 0-for-6 in his big-league career. He went 2-for-3 at the plate, including a game-winning RBI in the seventh inning.
What makes Rodriguez's story special is that he had played the most games in the minor leagues (1,095) without having made the bigs.
Seeing Rodriguez finally get his first big-league hit with his parents in the stands was a great sports moment. It was also a reminder of how hard it is to actually make it to the majors.
Every year, players from across America and around the world are taken in the MLB draft and set off on the developmental path of first joining a low level minor league team, and then — if things work out — make their way up the food chain until they're at Triple A, just a call-up away from making their big-league dreams a reality.
For Rodriguez, this took over a decade of toiling in the minors, but he's also not the only one. Chase Lambin is the oldest active minor leaguer at age 35 to have never played in the major leagues. There are a lot of Lambins all across the minor leagues. Scan any roster and you're bound to see a couple of players in their 30s you've never heard of, playing baseball because it's what they love, even without the recognition and the million-dollar paychecks.
In the end, chasing a sports dream doesn't always have a happy ending, but Monday night, Rodriguez and his parents got his. And you can bet he'll tell you all those years spent in the minors was worth it just for that one moment.