13 Black Actresses Who Aren't The Least Bit Angry About Fall TV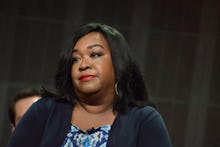 Shonda Rhimes is not an "angry black woman," and it will take more than an off-base New York Times critic to convince her or anyone else otherwise.
Despite Alessandra Stanley's perfunctory critique of Rhimes' ability to develop layered, black female characters on her hit shows, there's a more refreshing reality to celebrate. Rhimes has become one of the foremost creators of opportunity for African-American actresses today, blazing a trail within an industry that still struggles with casting diversity. Come this fall, because of people like Rhimes, America's primetime television lineup will be more colorful, filled with incredible black actresses in prominent roles. 
Many industry watchers have long bemoaned Hollywood's apparent lack of concern for creating programming, let alone roles, that feature black women. Academy Award-nominated actress Viola Davis once said that black actresses in Hollywood are in "crisis mode," and at last count by the Women's Media Center, only 12% of female actors with speaking parts on television are black. 
For many of those leading ladies, the upcoming TV season is less cause for righteous anger than it has been. The future of television does and will hold great things for viewers and creators alike. Here are some of the women whose work more than makes the case for increased casting diversity. 
1. Kerry Washington as Olivia Pope, Scandal
Rhimes created a tour de force with the hit show Scandal, giving audiences television's favorite crisis management executive and Beltway political operative, Olivia Pope. Washington returns for a fourth season, where she'll continue swiftly moving to protect the public reputations of her high-profile clients, all while juggling a salacious affair with the president of the United States.
2. Viola Davis as Annalise Keating, How to Get Away with Murder
A new addition to a Rhimes-powered Thursday lineup on ABC that already features Scandal and Grey's Anatomy, Davis takes on her first leading TV role as professor Annalise Keating in How to Get Away with Murder. In what's sure to be a thriller, Davis portrays a criminal law professor and defense attorney who has built a career manipulating the system to help killers beat their charges in court. Known most for her Academy Award-nominated roles in the films Doubt and The Help, the show marks her first return as a small screen regular since playing Lynda Frazier in Showtime's United States of Tara. 
3. Tracee Ellis Ross as Rainbow Johnson, Black-ish
After wowing audiences as Joan Clayton on Girlfriends, Ross stars in a bold new comedy that challenges stereotypes of what it means to be black in America. Black-ish features a relatively affluent suburban family with a father who doesn't want his children to forget their roots. Ross plays Dr. Rainbow Johnson, a mother of four who adds a unique perspective as a woman born of a biracial relationship, a background Ross shares in real life.
4. Octavia Spencer as Nurse Jackson, Red Band Society
Spencer plays Nurse Jackson on Fox's Red Band Society, which chronicles life in a hospital's pediatric ward. She's a partner in care for kids through their health struggles, but has "no time for tomfoolery," as Spencer said in an interview with Tulsa World. It's the first time Spencer will star in a TV series, after a long career of guest and recurring television roles prior to her Oscar-winning role in The Help. 
5. Alfre Woodard as Constance Payton, State of Affairs
NBC's State of Affairs takes a look inside the life of top female CIA analyst Charleston Tucker, portrayed by Katherine Heigl, who advises the president on vital security issues facing the nation. Woodard plays the ultimate boss on the show, President Constance Payton, whose determination in the face of national security threats becomes all the more unshakeable after a terrorist attack kills her son — and Tucker's fiancé. 
6. Lorraine Touissant as Lt. Joanna Reece, Forever
This summer, everyone fell in love with, then quickly grew to hate, Touissant's notorious character on Orange Is the New Black, the manipulative drug lord and prison mom Yvonne "Vee" Parker. But in a new ABC investigative drama, Forever, Touissant will trade the fluorescent scrubs of Litchfield Federal Prison for a badge and a gun as Lt. Joanna Reece.
7. Jada Pinkett Smith as Fish Mooney, Gotham
Known most recently for her starring role as an endearing, no-nonsense nurse in the TNT drama Hawthorne, Jada Pinkett Smith returns to TV in Gotham, a new prequel series to the Batman franchise. There's nothing at all sweet about her character, Fish Mooney, a vicious mob boss with ties to the city government and law enforcement. 
8. CCH Pounder as Dr. Loretta Wade, NCIS: New Orleans
NCIS: New Orleans delves deep into a local unit that investigates crimes pertaining to military personnel. Pounder plays the team's skilled medical examiner, Dr. Loretta Wade, who's as much about the job as she is enjoying the frivolity of the city. "[Loretta] is a little bit dogmatic at her job in terms of getting to the bottom of the mystery, but outside of her job, she can still cut a rug on the dance floor, she can still have a kind of life force that you don't necessarily think [of as associated with a] coroner," Pounder told the Washington Post.
9. Aja Naomi King as Michaela Pratt, How to Get Away with Murder
In one of her first leading TV roles, King plays one of the bright-eyed law students who will get in way over their heads while under the intense tutelage of criminal law professor and defense attorney Annalise Keating. King was last seen as a series regular on the now-canceled ABC show Black Box. 
10. Erica Ash as M-Chuck, Survivor's Remorse
Led by executive producer LeBron James, Survivor's Remorse follows the budding career of a 20-something young black man, Cam Calloway, whose journey takes him from the Boston projects to singing a multimillion-dollar NBA contract. Ash, whose previous credits include MADtv, The Big Gay Sketch Show and Scary Movie 5, plays M-Chuck, Cam's older sister. She's both his biggest fan and one of his fiercest protectors, given her skepticism towards Cam's newfound fame. 
11. Nicole Beharie as Lt. Abbie Mills, Sleepy Hollow
Returning for its second season, Beharie stars as monster-fighting Lt. Abbie Mills in Fox's Sleepy Hollow. The show has been heralded as a strong dose of girl power, with a leading female heroine alongside the iconic (and reimagined) Ichabod Crane. In the series, a unique twist on Washington Irving's famous 1820 short story, Mills is a present-day detective who teams up with Crane after unknown occult forces resurrect him and the Headless Horseman from the dead. The resulting spree of crime and chaos is no match for the fearsome duo.
12. Sasheer Zamata, Saturday Night Live
Zamata will return for a second season as a featured player on Saturday Night Live, this time with the initial controversy of her hiring behind her. A talented comedian in her own right, she was quickly chosen by show executives in the middle of last season, amid uproar over the lack of black female comedians since Maya Rudolph's departure more than five years ago. Some of her funniest moments so far have included her impressions of Michelle Obama and her parody of Olivia Pope from Scandal.
13. Gabrielle Union as Mary Jane Paul, Being Mary Jane
It doesn't return to television until January, but that doesn't mean it's too early to celebrate what's expected to be another hit season for BET's Being Mary Jane. Union portrays Mary Jane Paul, a cable news anchor who somehow manages to juggle a variety of struggles in the daily life of a career-driven black woman, including family drama, work-life balance and failed romances. But in the midst of it all, especially her astounding success, Mary Jane realizes she can still learn key life lessons and cultivate an appreciation for the simple things.