A New Study Shows How Hard It Is to Get a Job (But Republicans Miss the Point Entirely)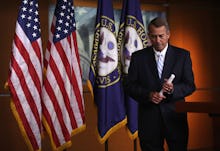 New research shows that the improving economy still leaves us with a downright frustrating job market. It's something Republicans could maybe campaign on, if they could find a way to be less tone-deaf about it.
The Rutgers University study, released Sunday, shows that 20% of the people laid off in the past five years have yet to find new jobs. Those that have often aren't in great positions, either — 46% took a pay cut and 44% called it a drop in status from their previous job.
More pessimism: That kind of challenge can dampen the spirits of even the most positive job-hunter. Thirty-six percent of respondents said that the economy would never recover, up from 29% last year. Forty percent said that good jobs will never go back to pre-recession levels, an increase from 34% last year.
To make matters worse, 43% of those surveyed said they were looking for part-time work, compared to only 26% looking for full-time positions. "I think it's a reflection of the work available to them," Carl Van Horn, director of Rutgers' Heldrich Center for Workforce Development, told USA Today. "The labor market is changing."
That change can leave certain people behind, too. The results don't paint a pretty picture of the job market, especially when paired with the fact that the recovery is mostly helping white families at the expense of minorities. A Federal Reserve Board report from earlier this month found that white, non-Hispanic families saw an increase in net worth and mean income from 2010 to 2013, whereas minority families saw median income drop 9% and median net worth drop 17% over that period.
Revealing gaffe: With Republicans hoping to win enough seats to take control of the Senate, harping on the difficult job market has become a go-to strategy. And given numbers like these, why shouldn't they?
The problem is that many policies pitched by Republicans don't seem to instill confidence among voters that they're looking out for them. Take House Speaker John Boehner, who stirred up controversy last week when he had this to say during a speech:
"I think this idea that's been born over last ... couple of years that, 'You know, I really don't have to work, I don't really want to do this, I think I'd just rather sit around' – this is a very sick idea for our country."
The talking points are all ripe for the taking — people are having a hard time finding jobs, people are getting discouraged, people are losing faith in the recovery — and yet Boehner can't shake the idea that unemployed people are entitled and lazy.