Hundreds of Colorado High School Students Are Taking a Bold Stand for Freedom of Speech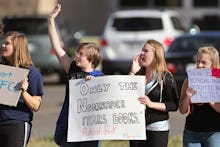 Brennan Linsley/AP
The news: A Colorado school district has come under fire for trying to change its history curriculum — and its own students have schooled it on what real American history is.
Earlier this month, the school district of Jefferson County, Colo. — the second-largest district in the state — announced it was considering a change to the Advanced Placement U.S. history curriculum to "promote citizenship, patriotism, essentials and benefits of the free-market system, respect for authority and respect for individual rights" and not "encourage or condone civil disorder, social strike or disregard of the law."
If the proposal passes, the district's conservative-majority school board would establish a committee to review textbooks and other classroom materials to see if they meet this new criteria. In other words, any textbook that didn't seem "patriotic enough" (an aggressively arbitrary and potentially very dangerous label) would be cut. 
But the students aren't having any of that. On Friday, students and teachers at two Jefferson County high schools staged a "sick out," forcing the schools to close down for the day. By Tuesday, hundreds of students of at least seven different high schools walked out of class to protest at on campus and outside the school district office.
"I don't think my education should be censored. We should be able to know what happened in our past," Tori Leu, a 17-year-old student at Ralston Valley High School in Arvada, told the Associated Press.
Another student demonstrator, Tyrone G. Parks, a senior at Arvada High School, told the AP that "everything that we've done is what allowed us to be at this point today. And if you take that from us, you take away everything that America was built off of."
But this isn't the only school district facing censorship. Jefferson County has not voted on the proposal yet, but there are already school districts across America changing the way history is taught in the classroom — and not for the better. As previously reported by Mic, Texas has implemented a new religion-influenced curriculum that misrepresents basic historical facts, such as racial segregation; many other Tea Party-fueled districts are taking a similar approach to alter how evolution and other "controversial" subjects are taught.
It's becoming increasingly clear that classrooms have become sociopolitical battlegrounds. But if the Jefferson County school district wants its schools to be more "patriotic," it's going to have to deal with its students' and teachers' protests — because nothing is more American than civil disobedience.