This Is the Most Adorable Way to Return Your Lost Airline Luggage Ever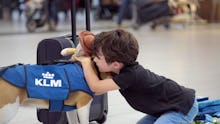 YouTube/KLM
The news: There's probably no government agency as universally hated as the Transportation Security Administration, especially when the efficacy of its invasive, sometimes outright inappropriate policies is being doubted even by the U.S. government. But a new marketing campaign from Dutch airline KLM puts the U.S. further to shame by showing just how easy, and adorable, finding lost luggage could be. 
Meet Sherlock, an appropriately named beagle who has recently taken up residence at Amsterdam Airport Schiphol in a new and adorable stunt commissioned by KLM. 
"Personally, I think he's a real asset to the company," Chantel Kremer, a KLM ground crew member, said in the clip. "And he can really do something no one else can."
Yes, it is just as unbearably adorable as it sounds. KLM's new marketing campaign prominently features Sherlock scampering throughout the airport, returning cell phones to owners and stuffed animals to children. If this is emotionally manipulative marketing, it's certainly effective:
A dreamer's dream: While Sherlock isn't actually a real addition to the KLM team, he is an illustration of how some airlines actually treat their customers with kindness and respect. Even without the pup, KLM's real lost and found team has been utilizing a mix of information culled from seat numbers, phone numbers and social media to track down lost items' owners. Without a doubt, this is a welcome change from the gruff and comically unfriendly TSA stereotypes found at a number of U.S. airports.
Of course, the U.S. has already famously employed a Beagle Brigade, but you're probably less inclined to greet dogs trained to sniff out smuggled food. A beagle delivering your lost phone, on the other hand, is certainly a welcome sight.
Even though Sherlock is just part of an adorable marketing campaign, the message remains: Traveling can be terrible, let's try to make it a bit better.
Correction: Sept. 24, 2014
An earlier version of this article implied the dog feature in the video was a permanent addition to KLM's lost and found team. The language of this article has been updated to reflect that the video was solely marketing stunt and that "Sherlock" is not actually joining the KLM team.