Australia Is Fighting Its Very Own War on Terror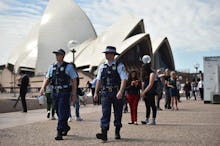 PETER PARKS/Getty Images
The news: While all eyes are on the escalating situation with the Islamic State in the Middle East, one country is facing a sudden rise in homegrown terrorism: Australia.
Just last week, the country raised its terror-alert level to "high" and carried out the biggest counterterrorism effort in its history, reportedly foiling an attempt by IS-connected jihadists to kidnap and behead members of the public. And Tuesday, another deadly attack was stopped by the police, and this time it was a closer call.
According to Australian authorities, an 18-year-old Afghan-born man named Abdul Numan Haider was asked to come to a police station in Victoria because his behavior was "causing concern." Haider, who had been a person of interest to counterterrorism officials for months and recently had his passport suspended, then reportedly attacked two police officers.
"This was a planned and agreed meeting that was to occur at the Endeavour Hills police station. When these two police officers approached him, they were stabbed, one very seriously," Victoria Police Chief Commissioner Ken Lay said at a news conference Wednesday. "One of the injured police discharged his firearm, fatally wounding the 18-year-old." The police officers remain in stable condition.
This is a worrying trend in Australia. While authorities have confirmed that Haider was most likely working alone, the attack does come just a day after IS called for all Muslims to kill Australians indiscriminately.
According to Prime Minister Tony Abbott, there are at least 100 Australians currently in the Middle East fighting on the behalf of IS and related jihadist groups; around 20 are estimated to have returned to Australia from the fighting, posing a public-security risk.
"Regrettably, for some time to come, Australians will have to endure more security than we're used to, and more inconvenience than we'd like," Abbott said in a parliamentary address Monday. "Regrettably, for some time to come, the delicate balance between freedom and security may have to shift."
Tough measures are already being taken. New anti-terrorism laws have already been introduced in the Australian Parliament, making it easier for authorities to detain suspects and search their homes, especially if they are returning from "no-go zones," areas with high terrorist activity. Last month, the Australian government committed an additional $565 million to a four-year counterterrorism effort, and screenings at airports and other public buildings are also expected to increase.
This is in addition to Australia stepping up its commitment in the Middle East: The country recently deployed 400 air force personnel and 200 special forces soldiers, as well as fighter jets.
Much like any country involved in a war on terror, Australia faces a double-edged sword: As it takes a tougher stand against terrorism, it becomes bigger target for terrorists. And as these recent events show, the threat in Australia is very real.