New York Police Department Slams Pregnant Woman Onto Street in Latest Horrifying Video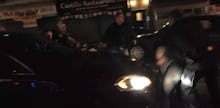 The news: For the second week in a row, officers from the New York Police Department's 72nd Precinct in Brooklyn are under investigation by the Internal Affairs Bureau for excessive force allegations. And this time, that force was directed at a pregnant woman. 
In the below video, visibly pregnant mother Sandra Amezquita can be seen on the left tackled and man-handled by officers after she attempted to stop them from arresting her 17-year-old son. 
According to a criminal complaint obtained by the New York Daily News, Amezquita's son, Jhonan Lemos, was charged with criminal possession of a knife and resisting arrest, while her husband, Ronel Lemos, was charged with assaulting an officer while trying to intervene.
"The first thing I thought was they killed my baby and they're going to kill my wife," Ronel Lemos told the Daily News, while Amezquita said she suffered vaginal bleeding and heavy bruising across her stomach following the incident. 
"What we see is a woman who's trying to protect her son, who is being stopped and frisked by police, and she became a victim. Slammed onto the floor," El Grito de Sunset Park's Dennis Flores told ABC 7. "Her belly is now with black and blue bruises. She's bleeding and she's having complications."
"This is the second video in a week" concerning the 72nd Precinct, Councilman Carlos Menchaca added. "It's disgusting. This needs to stop. I spoke with the chief and the captain. We have a systemic problem with this precinct. We need to solve it now."
Less than a week before this video hit the Internet, the 72nd Precinct found itself in hot water after bystanders recorded an officer kicking a street vendor in what Police Commissioner Bill Bratton later admitted was a "totally unprovoked" act of violence. That officer has since been suspended while Internal Affairs investigates. 
The two incidents are just the latest example in which NYPD officers have been recorded using excessive force to subdue suspects this year. A video from mid-August showed at least six officers beating a 16-year-old Latino boy, while asthmatic Staten Island man Eric Garner died in July after being put in a banned chokehold while being arrested for selling untaxed cigarettes. 
Later that month, a photograph of an officer putting another pregnant woman in a chokehold for grilling on the sidewalk emerged. Rounding off an unpleasant July, yet another member of the NYPD was videotaped stomping on a suspect's head while he was being restrained on the ground by other cops. The offense? Rolling a joint.