Emma Watson's 4Chan Nude Photo Threat Was Actually a Despicable Internet Prank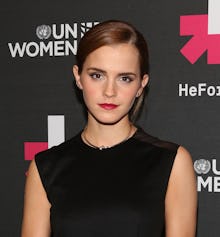 The news: If you thought 4chan's threat to release nude photos of Emma Watson couldn't get any worse, you'd be wrong.  
The infamous message board supposedly planned to release nude photos of the Harry Potter actress on Saturday at midnight Eastern Time at www.EmmaYouAreNext.com in response to Watson's brilliant recent U.N. speech, which focused on, among other things, gender equality and feminism. 
By late Tuesday night, however, the site redirected visitors to the homepage of Rantic Marketing, a so-called "social media marketing enterprise." The point of the bogus threat, they claimed, was to attract enough attention in order to shut down 4chan, the source of the original celebrity nude photo leaks that have caused headaches for the likes of Kate Upton and Jennifer Lawrence in recent weeks.
But wait! It gets worse. As Business Insider reports, Rantic Marketing doesn't actually exist. The entire stunt — a bizarre kind of prank-ception, if you will — was concocted by a group of infamous Internet trolls. Rantic.com, along with the creepily altruistic message it supposedly promotes, is a big joke, just like the threat to release nude photos of Emma Watson. It was never real — it was a twisted social experiment all along.
Business Insider explains: 
"Rantic Marketing is a fake company run by a gang of prolific Internet spammers used to quickly capitalize on Internet trends for page views. The group goes by a variety of different names. Collectively, they're known as SocialVEVO, but as the Daily Dot reports, their names are alleged to include Jacob Povolotski, Yasha Swag, Swenzy and Joey B. The only known video footage of the group is a rap song about pickles that they used dubious spam techniques to make incredibly popular. The song used to have more than eight million views on YouTube."
How did this happen? The people behind Rantic use a fake news site called Fox Weekly in order to disseminate "news stories" about their pranks. The original Watson nude photo leak story came from them, and it spun out of control; soon enough, outlets everywhere — including Mic — reported the news. 
If this seems ridiculous and utterly bizarre, that's because it is. But it's also immature and dangerous. The original nude photo leaks were a serious issue of sexual harassment, and they shouldn't be made fodder for the amusement of a few bored Internet pranksters. 
Congratulations, guys — you did it. The nude photo hoax has yet again brought out the worst parts of the Internet.