Here's What Happened When Roger Federer Asked Indian Fans to Photoshop Him Into Their Country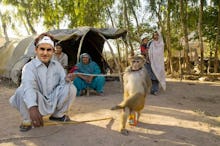 Throughout more than a decade of dominance in professional tennis, 17-time grand slam champion Roger Federer's job has taken him to numerous countries — Brazil, the United Arab Emirates and Ethiopia being some of the latest additions. This year, Federer is adding another to his list: India. Federer will visit the land of a billion people in December to play for the Indian Aces franchise of the International Premier Tennis League, a tennis venture founded by former world No. 1 doubles player Mahesh Bhupathi. But because his trip will only last a few days, the Swiss and his team devised a clever plan to get a taste of India — if only vicariously.
After Federer asked his fans to digitally superimpose him onto the Indian settings of their choice, respondents left little to the imagination — snake charming, camel and elephant rides, the Taj Mahal, Bollywood and every other Indian-vacation stereotype came out thick and fast. 
And the 33-year-old tennis star took it all in stride. 
Here are a few things that Federer's famously devoted fans want him to do in the country.
1. Red Fort
2. Sand dunes of Rajasthan
3. The ghats of the Holy Ganges
4. Snake-charming
"Why not try some good ol' snake-charming while you're there?" seems to be the message of this one. 
5. Indian trains
And travel in Indian trains, in true hanging-on-the-edge-of-the-door style. 
6. The spicy food
7. Indian festivals
Though the Hindu festival of colors, Holi, wouldn't be around until the spring of 2015, fans imagined how Federer would like playing out the tradition. 
8. And dances
Federer's seen here doing garba, the dance style of the state of Gujarat, where the new Indian Prime Minister Narendra Modi is from. 
9. Indian transport
Federer himself gave a thumbs-up to this mode of transport by retweeting this picture. 
10. Elephant rides
And if that doesn't work out, there's always this mode of transport in India. 
11. Pillion-riding
And when all else fails:
12. Bollywood movies
If he ever needs a Plan B: From tennis hero to starring in Bollywood movies.