5 Photos You Didn't See From Obama's Trip to the UN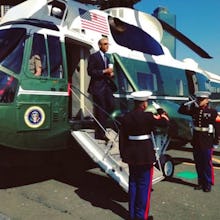 Conservative news outlets are flipping out over President Obama's "latte salute."
President Obama saluted two Marines while exiting Marine One in New York City on Tuesday as he held a coffee cup in the same hand. The video went viral after the White House posted the video to Instagram:
While it is protocol for U.S. service members in uniform to salute the commander in chief, it's not required for a civilian president to salute back, military experts told Yahoo News.
In reality, the social media firestorm and cable news talking heads are letting a silly Instagram video completely overshadow Obama's historic address to the United Nations on international efforts to combat climate change. With Ebola and the battle against Islamic State militants on the docket for the UN General Assembly meeting in New York this week, the media should find more important topics to focus on.
President Obama shakes UN Secretary-General Ban Ki-Moon's hand following his address to the UN General Aseembly
President Obama meets with representatives of the five Arab nations involved in air strikes against the Islamic Sate in Syria
President Obama meets with former President Bill Clinton
President Obama delivers an impassioned speech on climate change at the UN Climate Summit
President Obama salutes Air Force servicemen at JFK International Airport in New York
Sometimes a latte is just a latte, people.