The Whitest Team in the NFL Isn't What You Would Expect (Or Maybe It Is)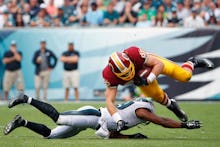 The Philadelphia Eagles — and by a huge margin. The team's roster consists of 25 white dudes.
According to "Unofficial 2014 Player Census" compiled by the Best Tickets blog, the Texans are the only other team that has even 20. The Eagles almost have more white guys than black guys.
No one is accusing the Eagles of preferring white players, but it's and odd coincidence after the team re-signed Riley Cooper, a player who said the N-word at a concert in 2013, and cut DeSean Jackson amid rumors of "gang connections."
Overall, the census is a pretty neat list. Did you know no NFL players went to high school in Vermont? Sorry, Green Mountain State.
The data also reveals other cool trends:
The Buccaneers are the shortest team. The Cardinals are the tallest — an average of 6 feet, 2.5 inches. The Colts are the heaviest team on average — by three pounds over Arizona, even with the Cardinals' height advantage. The highest number of NFL players were born in California. Per capita, though, Louisiana has the most.
One chart shows heights by position. Tackles are tallest of all — more than an inch taller on average on the second-tallest position, tight end. (Another benefit to being a tackle: Tackles also score highest on the Wonderlic test, per Dr. Z. Height and wit!)
h/t Deadspin