Cardinals Star Darnell Dockett Offers Tickets to Fan Who Stepped in Middle of Brawl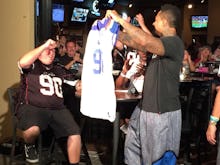 NFC West rivals always get after it on the field. But during Sunday's game between the Arizona Cardinals and the San Francisco 49ers, even the spectators dialed up the intensity.
Fans from each team got into a scuffle at the University of Phoenix Stadium, which was caught on a video that has since gone viral. But what's caught people's attention is not the fight itself, but the Arizona fan who stepped into the fray to aid security guards trying to break up the fight.
In the clip, the peacemaker is wearing a Darnell Dockett jersey, an injured defensive star for the Cardinals. Dockett watched the video and took to Twitter not just to applaud, but to reward the fan.
On Tuesday, the 11th-year defensive tackle lived up to his promise, giving the fan tickets for the remainder of the season and even his jersey from last year's Pro Bowl. Of course, no one is rewarding the fan for using violence, especially in light of the NFL's recent negative publicity. But Dockett wasn't rewarding the fan for joining the fight, it was for lending a hand to an overwhelmed security guard before the fracas really got out of control.
Kudos to the fan for lending a hand and to Dockett for living up to his promise.