Republican Candidate in Nevada Defends Romney's 47% Gaffe, Hates Half His District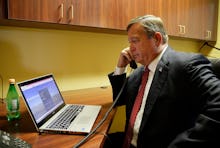 What's worse than dissing 47% of Americans? Going out of your way to diss more than 47% of Americans.
Cresent Hardy, the Republican candidate for Congress from Nevada's 4th District, paid an homage to Mitt Romney's low point during a fundraiser last week. "Can I say that without getting in trouble, like Gov. Romney?" he said, at which point he should have realized he would get in trouble. "The 47% is true. It's bigger now."
The background: Romney came under fire in 2012 after telling donors that 47% of the country consists of people "who are dependent upon government, who believe that they are victims, who believe the government has a responsibility to care for them, who believe that they are entitled to health care, to food, to housing, to you-name-it."
The recording, released by Mother Jones, did nothing to help a candidate trying to avoid coming off as rich and out of touch. Romney subsequently apologized for his comments, calling them "just completely wrong."
While this latest gaffe is unlikely to do Hardy any favors, his chances weren't all that great to begin with. His opponent, Democrat Steven Horsford, has a 95% chance to win the seat, according to the Washington Post's projections.
Not the first time: Maybe those long odds are what make Hardy feel free to go off on subjects like this. His 47% video is just the latest in his collection of greatest hits.
Earlier this year, Hardy talked about how mad it makes him when someone "pulls up in front of me in a welfare district in a big fancy Escalade," since you should never be able to drive a luxury vehicle through a low-income area.
He's already forsworn more than 47% of the vote, but it's hard to watch any of these and figure he'll get anything close to that much.
Correction: Oct. 10, 2014
h/t Mother Jones