Native Americans Have Won a Landmark Victory Over the U.S. Government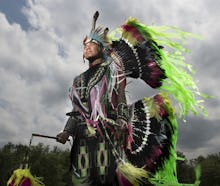 The news: While the controversy over the Washington Redskins is far from over, the country has taken a different step this week to address past injustices against Native American groups.
On Wednesday, the U.S. government agreed to pay the Navajo Nation $554 million to settle claims dating back to 1946 that it mismanaged the tribe's funds and natural resources. Not only is this the biggest settlement ever with a single Native American tribe, it follows a long line of similar settlements under the Obama administration.
"It will not completely redress the wrongs done on prior generations, but it's going to allow some opportunity for future generations," Navajo Nation Deputy District Attorney Dana Bobroff told Buzzfeed, adding that the settlement was a "monumental" victory.
Why is this happening? Back in 2006, the Navajo Nation filed a lawsuit against the federal government asking for up to $900 million in damages. The tribe, which is the biggest and most populous Native American group in the U.S., claimed the U.S. government mismanaged the 14 million acres of Navajo land it holds in a trust, which is leased out in parcels for farming, mining, logging, coal and oil extraction, and more.
And instead of continuing to pursue lengthy, expensive litigation, the U.S. government has agreed to transfer half a billion dollars to the Navajo Nation over the next two months — the Navajo Council Nation will hold a public hearing in October to determine how the funds will be used, although there are some suggestions already. "Roads, water, housing, basic infrastructure," Dwight Witherspoon, a council delegate, told the New York Times. "We have so much need."
There have been many similar settlements lately. Since 2010, the U.S. government has settled similar cases to the tune of $2.61 billion to 80 tribes (including the latest case). In addition, the Obama administration also settled the class-action lawsuit Cobell v. Salazar, which represented over 3,000 different Native American trusts and several hundred thousand plaintiffs over a period of 13 years.
Attorney General Eric Holder has described the settlement with the Navajo Nation as a historic commitment to  "strengthening our partnership with tribal nations," and by his definition, the partnership might get stronger: The settlement only applies to past claims, leaving the Navajo Nation and other tribes free to file similar claims in the future.
While the redress might be coming decades too late, it's a sign the government is willing to put its money where its mouth is and start addressing past wrongs against Native Americans.