Teens Allegedly Used Snapchat to Broadcast a 16-Year-Old's Rape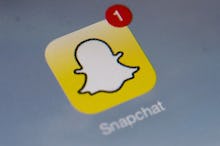 The news: As the Steubenville rape case showed us, social media can be used as a horrific tool of victim shaming and bullying in sexual assault cases. But it can also be used to identify perpetrators and bring them to justice, and a Massachusetts mother is hoping that the latter will come true for her daughter's case.
According to WHDH 7 in Boston, a mother is seeking justice after her 16-year-old daughter was allegedly raped earlier this month. To make things worse, the girl's assault was reportedly videotaped and shared widely by the assailants through the app Snapchat, which allows users to send disappearing videos and photos to their friends.
"What they did was disgusting it was sick, I almost lost my daughter. She was barely breathing she was found with nothing on," the mother told the news station. "I want justice, I don't want this to go away, I want them to pay for what they did."
A double-edged sword:  The case unfortunately follows a recent spate of incidents where social media played a crucial role in a young person's rape: While Steubenville remains perhaps the most infamous example, there have been multiple other cases where the rapists distributed humiliating pictures of the victim online.
But as Salon's Irin Carmon wrote at the time, these disturbing images can be used against the perpetrators and provide hard evidence in rape cases, which are notoriously hard to prove. "They are a loop of retraumatization, these images replaying sexual violence and the culture around it, but they are something else, too: evidence. They are proof not just for a courtroom that formally recognizes the existence of rape and sexual assault, but for a culture prone to denying it or explaining it away," Carmon wrote.
While Snapchat has been criticized in the past for not quite sticking to its premise — pictures and video sent through the app are supposed to disappear after a few seconds of viewing by the receiver — in this case, it might be an important tool to bring the perpetrators to justice. Two of three assailants have already been arrested, while the third has been identified, although his location is currently unknown.
Hopefully, this incident will be the last in a sickening trend of documenting sexual assaults on social media. While that might not erase the victim's trauma, it can bring her one step closer to getting justice, and make sure that this crime is not swept under the rug like so many other sexual assault cases.