A Disturbing New Report Reveals an Alarming Trend in Mass Shootings in America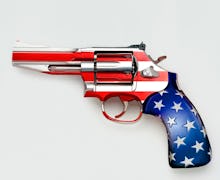 They're on the rise, the perpetrators are mostly men and the copycat phenomenon definitely exists. 
These are the findings of a new FBI report released Wednesday. The bureau examined 160 active shooter incidents — defined as an event involving "an individual actively engaged in killing or attempting to kill people in a confined and populated area," but excluding gang and organized crime-related incidents — between 2000 and 2013, and determined that mass shootings are becoming much more frequent in America.
There were an average of 6.4 incidents per year during the first seven years of the study, while the last seven years showed a dramatic increase, to 16.4 incidents annually. 
This horrific rise — which included the mass shootings in Newtown, Conn., Aurora, Co., and the Washington Navy Yard — saw 486 deaths and 557 injuries, excluding the shooters. Ninety of the incidents ended in suicide, while 21 ended when an unarmed citizen successfully detained the gunman.
The male factor: Curiously — or perhaps not, depending on your perspective — all but six of the shooters were men. This isn't exactly news, but the FBI report has now added some cold, hard numbers to the mix. 
It doesn't provide any explanations as to why this is ("This study did not focus on the motivation of the shooters," it noted), but it does highlight an exceedingly troubling offshoot of the gender disparity: The targets of many of these men were former romantic partners. In 16 of the 160 incidents, the gunmen targeted current, estranged or ex-wives, plus current or former girlfriends. In 12 of these cases the women were killed.
In other words, Elliot Rodger, the young man who killed six people near the University of California, Santa Barbara, and left deeply disturbing misogynistic videos behind, certainly wasn't a blip on the radar. 
Finally, some hard evidence. As the New York Times put it, the report "confirmed what many Americans had feared but law enforcement officials had never documented." There has been a great deal of criticism of the hand-wringing around mass shootings, but we can now point to something definitive. Mass shootings may be relatively uncommon relative to other forms of violence, but they're still increasing in frequency. 
Why they're multiplying, however, is another matter. The report itself doesn't offer many clues — its primary purpose is as a resource, not an answer — but many law enforcement officials believe gunmen want to replicate the notoriety that comes with mass shootings. 
"The copycat phenomenon is real," Andre Simons of the FBI's Behavioral Analysis Unit told Yahoo News. "As more and more notable and tragic events occur, we think we're seeing more compromised, marginalized individuals who are seeking inspiration from those past attacks."
So, what's being done? Not much. Gun control is, to put it mildly, a thorny issue in America. Mental health aid, universal background checks and giving teachers guns have all been floated as possible solutions, but a tangible policy has yet to come out of the gun control debate. 
Will the FBI's report change that? Probably not. But it's notable because it's coming from a high-profile law enforcement agency. As the New York Times reports, the study "was the first time that the federal government had determined the number of mass shootings over a significant period of time, according to the FBI." 
It provides, at the very least, something authoritative to point to. That's as good a starting point as any.