An Oklahoma State Trooper Has the Worst Advice for Women to Avoid Police Sexual Assault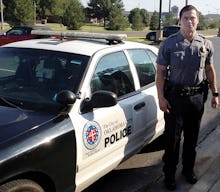 There's tone deaf, and then there's this advice from an Oklahoma Highway Patrol trooper.
After two months in which three police officers in the state were arrested for allegations of sexual assault while on duty, Capt. George Brown spoke with local television station KJRH about safety when getting pulled over. His final piece of advice, according to the anchor? 
"Follow the law in the first place so you don't get pulled over." 
Take a look:
The background: It's been a very bad couple of months for law enforcement in the Sooner State.
Oklahoma City Police Officer Daniel Ken Holtzclaw was arrested in August after accusations that he stopped several women and either forced them to expose themselves or raped them under threat of arrest, according to the Washington Post.
In September, Oklahoma Highway Patrol trooper Eric Roberts, who was accused of raping one woman and "inappropriately touching" another during daytime traffic stops, according to the Oklahoman. He was charged with sexual assault and kidnapping.
Shortly after Roberts' arrest, Tulsa County Deputy Gerald Nuckolls was arrested for allegedly exposing himself to women on 911 calls and telling at least one victim that he could help get her boyfriend out of jail if she would touch him, according to the Associated Press. Nuckolls told detectives that "he has a problem for pretty women" and that "sexual type activity has occurred" on the job.
A safety issue: In all three cases, officers allegedly used traffic stops as a way to harass and sexually assault women, which is what makes Brown's advice so jaw-droppingly bad. This is putting a whole lot of faith in a potential rapist to only pull over people who are breaking the law.
Speaking to Oklahoma's News on 6, attorney Clark Brewster had a few different tips — you have a right to ask why an officer is asking you to leave your car, and you can tell them you're recording them or call authorities yourself if things seem dangerous.
"It's probably not unreasonable to have a recorder if you have genuine concern, or video, and tell the officer you're videoing it to put yourself into a position where there might be some kind of protection," he said. "If the officer is engaging in predatory conduct or being off-color or improper in any way, that justifies telling him you're gonna use the phone to call the authorities and you're gonna stop having further dialogue with him."
Those safety measures wouldn't be necessary, of course, if the real problem — police officers committing rape, not women speeding — were actually addressed.
h/t Huffington Post