6 Important Life Hacks for Black Men Surviving in America Today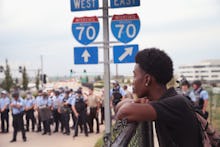 A troubling standard governs the lives of black men in America. It's a tenuous existence, marked by inequities ranging from job discrimination to the threat of state-sanctioned violence.
So how does one navigate this hostile environment? No single method is guaranteed to protect you — that's the trouble with living under a racist system. But to make things easier, below are six situations you may encounter and how to best deal with their legal and social ramifications.
This is what you need to know:
1. If your school tries to suspend you ...
In February, then-15-year-old Dontadrian Bruce was suspended from his high school in Olive Branch, Miss. His crime? Appearing in a photo where his hand gesture — three fingers raised, representing the number on his football jersey — was interpreted as a gang sign. 
This is nothing new. A 2012 civil rights survey from the Department of Education found that black students are three times more likely to be suspended or expelled from school than their peers, despite similar frequencies of misbehavior.
This is disturbing, and might also be illegal: The month prior, the Obama administration had distributed the "first federal legal guideline on school discipline" in American history, according to the Huffington Post. Among other items, it states that schools are now legally responsible for all disciplinary action occurring on their premises. This includes if law enforcement gets involved, even when it leads to physical violence.
So if you ever suspect you or someone you know has been targeted by racist disciplinary action, contact an attorney — the Justice Department can investigate, and punish the school accordingly.
2. If you're thinking about taking out college loans ...
For years, education has been framed as a tool for social mobility. While college is still considered financially worth the investment, there are a couple things you should know:
First, as a black student, you're more likely to go deeper into debt than your peers to fund your studies.
This is even true despite black students logging the most part-time work and work-study hours of any ethnic group, according to Mic's Chris Walker:
Second, even if you graduate, your job prospects are comparatively slim. The black grad unemployment rate is more than twice that of the graduate population overall, according to the Center for Economic and Policy Research.
A persistent wealth gap and disproportionate poverty rates are leading reasons for these disparities, but the statistics above are perhaps most useful from a planning standpoint. If the options are there, take tuition costs and postgraduate career prospects very seriously when choosing a school.
This applies to all college students, of course, but black students especially.
3. If you're stopped by the police ...
If the shooting death of Michael Brown taught us anything, it's that black life is disposable in the eyes of many police officers. Unfortunately, interaction with law enforcement is a fact of life for many black men, no matter where you are or what you're doing.
In a disproportionate number of cases, these interactions have turned deadly. Here's what you need to know for whenever you get stopped by police:
You don't have to answer questions. If a police officer stops you, you have the legal right to remain silent. Period. This applies whether you are stopped, detained or even arrested.
The only exception is that in some states you can be arrested for refusing to give your name, according to the American Civil Liberties Union (ACLU). It is a crime to lie to police, so silence is always the better alternative.
You can walk away. If you don't want to talk to a police officer, you can say, "I don't want to talk to you," and calmly walk off (don't run). You can also ask if you are free to go, if you don't feel comfortable just leaving.
However, the ACLU says that if the officer says you are not free to go, then you are being detained and must stay.
Ask for a lawyer. This is extremely important. If you are ever arrested, the person most qualified to protect your legal and civil rights is an attorney. And the more you talk to the police without one present, the easier it will be for them to implicate you in any wrongdoing, whether you did it or not.
This is especially important for young black men: In a notorious 1989 case, the New York Police Department coerced false rape confessions out of five black and Latino boys between ages 14 and 16 and handed them varying multiyear prison sentences. None of the boys had exercised his right to remain silent or contact an attorney.
If you cannot afford a lawyer, the court must provide one. It is illegal for an officer to listen to your phone conversations with your lawyer, but they can listen in if you talk to anyone else, according to the ACLU.
So again, this cannot be stressed enough: If you are arrested, remain completely silent except to give your name and ask for a lawyer. It could mean the difference between freedom and imprisonment.
What to do if you are mistreated. This is tricky, because there's very little you can do to prevent or avoid officer mistreatment such as beatings and nonconsensual pat downs.
Your best bet is to gather as much proof of the incident as possible: Take down the officer's name and badge number ("you have the right to ask the officer for this information," according to the ACLU) and if you sustain any injuries, photograph them as soon as possible. Also do your best to gather contact information from potential witnesses. You should approach this as though you were building a legal case.
Once you've done all the info gathering you can, file a formal complaint at the police station then contact an attorney or the ACLU.
It's important to remember to conduct all interactions calmly, while moving slowly and keeping your hands in plain sight. None of the above guarantees a positive outcome, but they are vital tools nonetheless.
4. If a cop tells you to stop filming them ...
Recording police on duty is completely legal. An officer can ask you to step back if you are interfering with their duties, and you should comply, but under no circumstances can they legally require you to turn off or delete content from your camera. They also cannot confiscate it, according to the ACLU.
This is an important right to exercise: In many cases, visual evidence from a cellphone video can be the only concrete documentation of police misconduct, making it an especially important tool for black men.
5. If riot police attack your peaceful protest ... 
It's going to hurt. As a black person in America, the police are statistically more likely to use forceful methods — such as tear gas, rubber bullets and the like — if you are present at a protest.
We saw this in practice in Ferguson, Mo., last month, and one of the more interesting takeaways was the outpouring of advice from people in Egypt and Palestine who've had more frequent exposure to tear gas, which causes painful inflammation of the eyes, nose and mouth.
The takeaway? Don't touch your eyes and don't use water to wash them out. Milk, coffee cream packets, a yeast solution (5% yeast and 95% water) and even Coca-Cola are better alternatives:
It's also important to note that the Constitution protects your right to free speech. You are legally permitted to march or protest without a permit so long as you: A) Stay on the sidewalk and obey traffic laws; B) Don't use sound amplifying devices; or, C) Avoid certain designated parks or plazas, according to the ACLU.
Effective civil disobedience might obviously be less potent if confined, permitted or legally bound by the very powers you're protesting, but just know that the law won't protect you in many such cases.
6. If you're looking for a job ...
Remember this: Unemployment rates are disproportionately high for black people in America today. It's been the case for the past 60 years, and hiring discrimination is a major part of it. Although the practice is hard to prove, here are some important facts you should know about what it looks like:
Your appearance can work against you. Sociologists, notably Devah Pager, have conducted multiple studies indicating that black job applicants are about half as likely to receive callbacks after interviews than similarly qualified whites.
This applies to names, too: People with "white-sounding" names — as determined by "an analysis of recent census records" — are twice as likely to receive callbacks than "black-sounding" names.
If it can be proven, this practice directly violates the Civil Rights Act of 1964, which outlawed "discrimination on the basis of sex as well as race in hiring, promoting, and firing," according to the National Archives. If faced with this practice, contact your local ACLU branch immediately.
Takeaway: The sad truth is, none of these measures or facts is a guarantee. Racism is systemic, and as such it can't be warded off simply by knowing and exercising your legal rights. True change is a long way off, as recent events can clearly attest.
This is just a start.