A High School Marching Band Had the Worst Fundraiser Idea Ever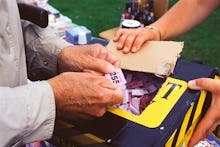 Comeaux High in Lafayette, La., needed to raise some funds for its marching band.  But instead of selling brownies, the school attempted to raffle off around 52 firearms.
This plan didn't go over so well with officials from the Lafayette Parish School System. Superintendent Pat Cooper ordered Comeaux High to immediately put a stop to all the fun after receiving multiple complaints. KATC reports:
Lafayette Parish School Board member Mark Cockerham says he met with LPSS Supt. Pat Cooper Wednesday to see if there would be a way to continue the fundraiser in which band members already may have sold as many as 50 tickets at $50 each, a total that would approximate $2,500.
The school has updated the band's website to notify those who had purchased raffle tickets that they would be receiving a refund rather than firearms:
"It's not like they would have just given somebody a gun," Cockerham said, adding that every recipient would need to pass a background check at a gun dealership before taking home their firearm. The district went out of its way to state the move wasn't intended to take a position on firearms ownership. 
The plan directly contradicts efforts this year by Lafayette city council members to launch gun buyback programs designed to reduce the number of firearms in circulation.
Raffles like these aren't uncommon, particularly in gun-friendly, conservative states throughout the South and Southwest. But they probably shouldn't be, given that firearm ownership greatly increases the risk of premature death or injury from suicide, homicide or accidental discharge. The FBI also just confirmed that mass shootings have indeed dramatically increased since the 2000. As the Independent notes, Louisiana in particular has a terrible and entrenched problem with gun violence:
FBI data released in 2012 showed Louisiana had the sixth highest number of firearm murders in the United States.
None of these things bode well for a plan to hand out 52 firearms at $5 a pop. 
Not everyone is happy, of course: One family complained to KATC that they had already spent $350 on tickets, but said they were more concerned with students' wasted effort.