Iraq Says It's Uncovered a Terrorist Plot to Attack Subways in Paris and the U.S.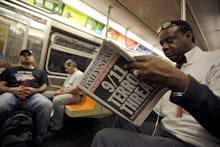 The government of Iraq said Thursday that it had uncovered plot to attack subways in Paris and the United States, the Associated Press reports.
"They plan to have attacks in the metros of Paris and the U.S.," al-Abadi continued. "From the details I have received, yes it looks credible."
It's not outside the realm of possibility, though. U.S. subway systems have been threatened by terrorists before. In 2009, Colorado man Najibullah Zazi was arrested as part of an international plan by al-Qaida to bomb subway systems in New York City and the United Kingdom. And in 1997, two men with Jordanian passports were arrested in Brooklyn for allegedly planning detonate bombs in a subway station and on a commuter bus.