The 19 Most Important #FreeSimmons Tweets ESPN Needs to See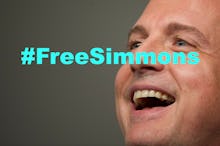 ESPN suspended Grantland editor-in-chief and longtime sports analyst Bill Simmons on Wednesday for his recent comments about NFL commissioner Roger Goodell. Simmons was reacting to Goodell's lackluster apology for the NFL's poor handling of the Ray Rice assault scandal and domestic abuse in the league.
"Goodell, if he didn't know what was on that [Ray Rice] tape, he's a liar," Simmons said during an episode of his podcast The B.S. Report, referring to the leaked tape that showed Rice knocking his fianceé unconscious in an elevator. "I'm just saying it. He is lying. I think that dude is lying, if you put him up on a lie detector test that guy would fail." 
Source: Soundcloud
After daring his superiors to punish him, ESPN turned around and did exactly that. 
"Every employee must be accountable to ESPN and those engaged in our editorial operations must also operate within ESPN's journalistic standards," the Disney-owned network said in a statement. Simmons was then suspended for three weeks and prohibited from posting on social media.
But the supreme irony, which has been lost on exactly no one, is that ESPN didn't suspend Simmons for the content his comments — they reported essentially the same story themselves. Rather, they were likely afraid of pushback from the NFL, with whom they have a partnership worth $15.2 billion. 
Simmons' suspension, then, brings up serious questions about ESPN's possible conflict of interest. As the Washington Post put it, "How can ESPN simultaneously cover the NFL as a subject while reaping billions from their business ties?" Simmons technically didn't do anything wrong in his podcast. His profanity and hysterics may have been overblown, but when it comes down to it, he was largely correct.
The issue was brought to life on Twitter — a platform from which Simmons has also been banned — where the hashtag #FreeSimmons is full of users pointing out the unfairness of Simmons' suspension. (Which, by the way, is longer than those of Ray Rice and ESPN commentator Stephen A. Smith, who claimed that women might be to blame for domestic violence.) 
Here are 19 of the most powerful statements: 
Simmons isn't exactly known for his measured temperament, and he has a history of saying and doing things that have gotten him in trouble. Calling him a blowhard isn't unfair — "I'm part historian, part know-it-all, and part shit-stirrer," he told Rolling Stone this year — but punishing him because of corporate interests certainly is, especially when it backfires: