We Found Wesleyan Frat Bros' Uncensored Thoughts on Plan to End Campus Rape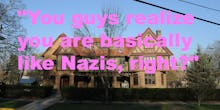 In big news for gender politics this week, Connecticut's Wesleyan University ordered all on-campus fraternity houses to admit female members by the end of 2017 or risk losing their school-recognized status. 
The move comes in response to a dramatic series of sexual assaults and injuries at parties organized by Wesleyan fraternities, including the notorious Beta Theta Pi, which a lawsuit by an anonymous student dubbed "The Rape Factory." Most recently, a woman attending a party at Beta Theta Pi fell from a third-story window and was admitted to the hospital in a coma, leading to university to declare the house "off-limits" to students during the academic year.
CNN reports that the forced integration was ordered by the college after it determined all-male fraternities were threatening the safety of students:
Wesleyan's board of trustees asked President Michael S. Roth in May to "prepare a plan to address the future of Greek life" after "highly publicized incidents of sexual violence." In a March 2014 lawsuit against Wesleyan's Xi Chapter of Psi Upsilon, a then-freshman student alleged she was raped in front of onlookers at the fraternity's on-campus residence.
Despite comprising just 4% of the student population, college president Michael Roth wrote in April that fraternity members were having a "striking" effect on the safety of their fellow students. Administrators hope that the presence of female roommates will ultimately result in a safer, less extreme atmosphere at fraternity houses and prevent future instances of sexual assault and booze-induced injuries.
The fraternities, of course, are furious, and national leadership has stepped in to defend their members' way of life. Some have speculated that integration will result in Wesleyan's Greek chapters dissolving as they're disavowed by their parent organizations. Total Frat Move writer Dillon Cheverere took to Time magazine to lambast integration and argue that the "fabric of a fraternity, as cliché as it may be, is the bond of brotherhood."
While the move is part of an ongoing conversation about fraternities, sexual assault and college life, many media organizations have overlooked how the decision is playing out at Wesleyan outside of a few measured statements from fraternity presidents.  
This guy is not happy about "militant radicals" ruining his "culture of fun."
This guy went off on a rant about Nazis, because feminists are fascists and poor frat boys are just like Jews.
There's no shortage of trolling, mocking the people screaming about "a growing frenzy of radical feminist political correctness."
Another poor, oppressed guy railed against "feminazis and fat ugly chicks," clarifying to them that "white male patriarchy is not changing."
Others railed against how the new policy would enable "gold-diggers" to cry rape when their totally innocent dorm-mates simply entered the bathroom, before someone pointed out that doesn't make any sense whatsoever.
This guy thinks he has a real "Checkmate, feminists" point here.
(But he doesn't.)
This fella thinks he has a hot, nonbinary mystery on his hands.
"Help, help, I'm being repressed!"
This guy is really threatened by the prospect of being replaced with a sperm bank.
These jerks have some pretty shitty observations about the GoFundMe campaign to help the girl who fell off the roof recover.
More bad opinions:
Feminists won't sleep with me, I'm so lonely.
While there are plenty of thoughtful, insightful thoughts on the administration's plan floating around on the ACB, Wesleyan's frat bros really don't seem to be very happy about the forced integrations. Why would they be? Wesleyan's move is a direct challenge to fraternity bros' privileged status on campus, and in this case, human decency and the good of the broader Wesleyan community won.
But hey, don't be such downers, frat boys of Wesleyan. I'm sure that once you get over the initial shock of having to cohabitate with the opposite sex, you'll discover that throwing sweet keggers is just as fun without artificial, exaggerated gender roles. Maybe you'll even find that you can bond with women the same way you can with your fellow bros. It's really not that big a deal.