Derrick Rose Just Made Us Love Him Even More With a Huge Act of Kindness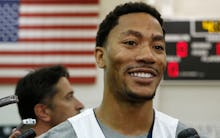 Lots of good news out of the sports world this week. In addition to the Washington Redskins and the NFL getting a deserved shellacking at the hands of South Park on Wednesday, Chicago Bulls point guard Derrick Rose has contributed to the warm and fuzzy vibes by making a $1 million donation to After School Matters, a nonprofit that organizes after-school programs for Chicago-area teens.
E. Robbie Robinson, the vice chairman of After School Matters, said the idea came from the 2011 MVP himself. "He reached out," Robinson said at the charity's annual gala Tuesday. "There was a conversation around what would be the best way to build a relationship. He and his family concluded this is what they wanted to do and to make a big statement."
In Rose's own words:
To have a strong community of people who believe in your potential can make all the difference in the world. ... So many people have invested in me and I want to do the same for Chicago's teens.
Image Credit: AP
The donation is the largest ever from Rose — who hails from one of the most dangerous neighborhoods on Chicago's South Side — and it's coming directly out of his pocket. Although Rose is one of the highestpaid athletes in the country, this single donation alone represents approximately 5% of his yearly income after taxes, including endorsements.  
This is just the latest example in a long list of impressive charitable contributions from NBA players.
Earlier this spring, reigning MVP Kevin Durant donated $1 million to relief efforts in Oklahoma following a devastating tornado.
Love or hate him, LeBron James is also well-known for his charitable works. Just about the only good thing that came from his televised announcement to join the Miami Heat in 2010 was the $2.5 million raised for the Boys & Girls Clubs of America, not to mention an additional $3.5 million raised from the ad revenue of "The Decision" that went toward several other charities.
And perhaps most notable is former center Dikembe Mutombo, whose personal foundation has paid for a 300-bed hospital in his native Congo.
Rose has had some atrocious luck in recent years with injuries, though hopefully this latest example of generosity will swing some serious karma back to his side.