Angry Packers Fans Are Mad at Olivia Munn for Their Quarterback's Failings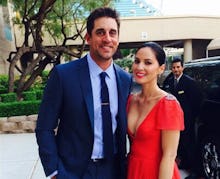 Despite limited roster turnover over the past few seasons, the Green Bay Packers are no longer the powerful bunch that won the Super Bowl in February 2011. The NFC North stalwarts' melanchonia continued with a 19-7 loss to Detroit on Sunday that dropped them to 1-2. With no light at the end of the tunnel, dissatisfied fans have turned their frustrations toward All-Pro quarterback Aaron Rodgers. 
They've got a point: The Packers' offense ranks 28th in total yardage, and Rodgers' completion rate of 62.7% is on pace for the lowest clip of his 10-year career. But instead of blaming the team's strategies or the players on the field, some Packers fans are seeking more low-hanging fruit, taking out their fan frustration on Olivia Munn, Rodgers' actor girlfriend. Defying all logic, these critics have taken to Twitter to ask Rodgers to dump her.
Blaming Munn for the Packers' performance is unfair and misogynistic — and it seems to suggest that athletes with female companions are somehow incapable of concentrating on their job. Rodgers himself found the whole thing so appalling that he refused to dignify it with a response.
But he wasn't the only one confused by the bizarre brouhaha: 
Disgusting, yes, but not without precedent. When Dallas quarterback Tony Romo had a bad game against Philadelphia some years back with his then-girlfriend Jessica Simpson watching from the stands, then-teammate Terrell Owens took a crack at her. "Right now, Jessica Simpson is not a fan favorite in this locker room," he said.
The website Ruin Romo even encouraged people to download a mask in Simpson's likeness and wear it to Dallas games. "If one Jessica could distract Romo, imagine what hundreds of others would do," the site urged.
Rodgers told ESPN's Milwaukee radio show that Green Bay seemed to be overeacting. "Five letters here just for everybody out there in Packer-land: R-E-L-A-X," he told the station. "We're going to be OK."
If only the same could be said for the anonymous cheeseheads hiding behind their keyboards.