Kansas Is So Broke It Has to Auction Off Sex Toys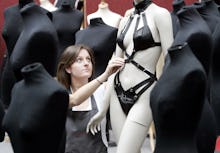 The news: Kansas is going through a bit of a budgetary crisis right now, and is facing a $238 million budget shortfall by 2016. Under such dire circumstances, the state has realized that every penny counts — even when it comes from rather sultry sources.
On Wednesday, the Topeka Capital-Journal reported that a Kansas sex toy company went out of business while owing $163,986 in state taxes, prompting the Kansas Department of Revenue to seize all the company's goods and release them for an auction. While it's a common practice for bankrupt businesses to organize auctions to pay back debts, this particular bankruptcy means that the state government of Kansas is now involved in a rather titillating closing-down sale.
"The online site lists about 400 lots — individual lots can contain dozens of items — that include the Pipedream Fantasy Love Swing, books, hundreds of DVDs, sex and drinking games, a wide assortment of sexually oriented equipment, carrying cases for devices, the Glass Pleasure Wand, bundles of lingerie and the Cyberskin Foot Stroker," the Journal reports.
Desperate times call for desperate measures: As reported by ThinkProgress, Kansas Gov. Sam Brownback's trickle-down tax cuts may be backfiring, triggering the budgetary shortfall — and Democratic opponents in the state have already gleefully seized on how money-saving measures like this may be at odds with the governor's social conservatism.
"Brownback is so desperate to fill the massive hole in the state budget caused by his reckless income tax cuts that the state of Kansas is now in the porn business," state Senate Minority Leader Anthony Hensley (D) said in a statement. "This is the same governor whose supporters spent this past week attacking his opponent for a strip club incident."
But for Kansas, money is money — even if the governor might not feel totally comfortable with auctioning off sex toys for state coffers. "While we do not agree with the type of business involved here, it was nonetheless a legal business that was closed due to failure to pay taxes," his office said in a statement.
If you'd like to help Kansas get out of this budgetary shortfall — or you're just feeling a bit randy — you can visit the auction page here.