Jeter's Nephew Tips Cap to Yankee Captain in Epic Send-Off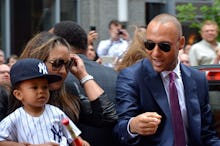 Derek Jeter helped the Yankees win five World Series championships, was a 14-time All-Star and will retire as the team's all-time leader in hits, yet he managed to punctuate those towering accolades with a completely unexpected ending in Thursday's farewell home game. 
"I was honestly out there saying, 'Please don't hit it to me,'" Jeter said. "I was thinking to myself, 'Get me out of here before I do something that cost us the game.'
"Funny, how things changed."
And things did change, dramatically. With the Yankees mathematically out of the postseason contention and the 40-year-old captain going through quite a lackluster season himself, few would've imagined that Jeter could make his farewell game so hard to forget. It looked like the team wouldn't need his services after entering the ninth inning with a 5-2 lead on Thursday night, but New York closer David Robertson surrendered three runs and left more than 50,000 set of eyes on Jeter in bottom half.
And the captain delivered yet again. He hit a dramatic walk-off single, his first in seven years, to send the Bronx faithful home happy.
With everyone cheering the captain, there was one most heartwarming and adorable tribute. Seen amongst the crowd was Jeter's young nephew Jalen, propped up by Jeter's mother, Dorothy, tipping his Re2pect cap to his Uncle after the game-winning hit.
"It was sort of an out-of-body experience, Jeter said. "It was a weird range of emotions. I was just trying not to cry."
But he did let out the tears as he walked around the stadium, then stopped at shortstop and eventually hugged his family. 
"I've done a pretty good job controlling my emotions," Jeter said. "I try to hide them. I try to trick myself into not feeling those particular emotions.
"Today, I wasn't able to do it."
The 40-year-old will play his final game Sunday at Fenway Park against the Red Sox.