Yet Another Batch of Celebrity Nudes Just Leaked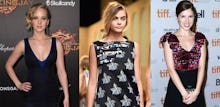 The news: Yet another collection of celebrity nude photo has leaked online, this time targeting supermodel Cara Delevingne, actress Anna Kendrick, Olympian Misty May-Treanor and actress Jennifer Lawrence (again). 
The release, which is being dubbed "The Fappening 3" by Internet commenters, started late Friday night and continued into Saturday morning. As with every previous incident, links to the photos appeared on Reddit and 4chan. Friday's photos followed Monday's leak, which targeted singer Rihanna and actress Amber Heard, among others. 
Although many have speculated that flaws in iCloud, Apple's storage system, are to blame for the leaks, Apple itself has denied this. As the Daily Beast points out, the timing of Friday's leak is ironic given that on Thursday FBI director James B. Comey railed against Apple for the iPhone 6's new security features, which are designed to prevent unauthorized hacks.
Again with this BS? The initial leak rightfully triggered a storm of responses, many of which were highly critical. With every successive leak, however, the public's interest seems to be waning — they know it's disgusting, and at this point, it's twisting the knife even further into the backs of the actresses whose private and intimate photos were leaked without their consent. 
It's getting old, and it's becoming obvious (although it arguably was from the start) that the leaks are simply a pathetic form of spotlight-seeking by someone who's either exceedingly bored or starved for attention. 
On the other hand: This latest leak is just as important as the past three because the privacy of these women is still being violated, regardless of the amount of outrage it engenders. The general public may forget about it in two months, but the celebrities involved won't. Their personal photographs will likely continue to float around the web for the foreseeable future. 
We can't afford to treat this like a commonplace event, because something this nonconsensually invasive should never become "just another leak."  
h/t The Daily Beast