The Favorite Music Artists of NFL Fans, In One Infographic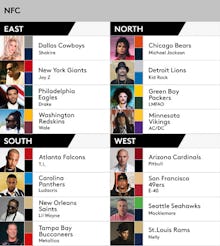 Music and football, two of America's favorite past times. And now thanks to new data research by Facebook, you can see them together in a whole new light.
Using their gigantic pool of data, Billboard teamed up with Facebook researchers to look at what musical groups and artists were most "liked" by NFL fans, and then identified which of those had a disproportionate amount of likes compared to the rest of the NFL. Take a look below:
Images Credit: Facebook/Billboard
Right off the bat, there are a few pretty obvious takeaways. To start, like the rest of pop music in American, hip-hop is king. An overwhelming 20 of the 32 NFL teams had a preference for hip-hop and R&B, while just six teams' fans had a preference for rock, followed by a smattering of country and pop favorites. Surprisingly, there were no repeats across every team. 
There was also a trend in hometown favorites, with 12 artists coming from their most loved cities. Nelly is from St. Louis, Macklemore hails from Seattle, Lil Wayne from New Orleans, T.I. from Atlanta, Wale from Washington, D.C., Kid Rock from Detroit, Jay Z and 50 Cent from New York, Tech N9ne from Kansas City, Machine Gun Kelly from Cleveland, Jason Aldean from Tennessee and George Strait from Texas. 
Of course, any survey of musical interests could always have a few data-skewing wrenches and hiccups thrown in, but the Facebook data scientists are generally pretty spot-on with this stuff. So, as much as we can quantify the favorite musicians of NFL teams' fanbases, this is probably about as close are we're going to get. 
Facebook has released similar findings in the past, including this map of each county's favorite NFL team:
Image Credit: Facebook