Wisconsin Is About to Put a Weekend-Hating, Kwanzaa-Bashing Homophobe in Congress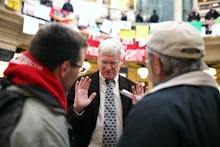 Glenn Grothman doesn't see why weekends should exist. No, he's not a villain in a children's movie, but he is probably going to Congress (though we don't know which is worse).
The Wisconsin Republican has some... interesting... ideas and isn't afraid to share them. In January, he took issue with a state law that requires businesses to provide at least one day off a week. Grothman called it "a little goofy" in an interview with the Huffington Post, saying, "[It's] a little ridiculous because all sorts of people want to work seven days a week."
Other highlights: Ending the weekend isn't the only thing Grothman has thrown his weight behind. Mother Jones rounded up some of his craziest moments.
In 2010, Grothman (still a state senator back then) railed against sex ed in pubic schools, saying that sex ed teachers have an "agenda" to turn students gay. "Did people even know what homosexuality was in high school in 1975?" he asked an interviewer. "Homosexuality was not on anybody's radar. And that's a good thing."
The next year, he told the Daily Beast, "You could argue that money is more important for men. I think a guy in their first job, maybe because they expect to be a breadwinner someday, may be a little more money-conscious."
Those views extend to issues of race as well, with Grothman telling Wisconsin Public Radio earlier this year that affirmative action is "offensive and it's very anti-business." In 2012 his office issued a press release that asked, "Why Must We Still Hear About Kwanzaa?"
Electoral outlook: Here's the thing, Grothman is probably going to be headed to Congress. The Washington Post gives him a greater than 99% chance to win over Democrat Mark Harris, who has raised less than $60,000 this election cycle. (Grothman raised about $336,000.)
Republicans in Wisconsin weren't thrilled about having Grothman win the nomination:
But barring something unforeseen, he'll end up with a seat in Congress despite all of the above. Now he's the national party's problem.
h/t Mother Jones