'Judging America' GIF Series Reveals Our Own Biases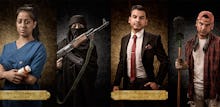 Judging someone based on their race, sex, dress or general appearance is always a bad idea, but sometimes you need to do a bit of judging just to realize how wrong you really are. 
In his new powerful photo/GIF series "Judging America," photographer Joel Parés seamlessly fades photos of an unfounded ethnic stereotype with people's real professions. Starting with a simple photo that's based on the stereotypes associated with a person's appearance, Parés fades to their real profession to make us realize how deceiving looks can truly be. 
On his website, Parés lets the photos speak for themselves, and they do so powerfully. Smart, hard-working, successful people can and do come in all different nationalities, professions and colors. 
Parés explained his goal to Mic:
"My mission for this series is to open the eyes of people who judge someone because of the color of their skin, their ethnicity, the sexual orientation, etc. With all that has been going on this year, I felt it was my duty to try and help open those who are being judged and mistreated. The first image is not how they physically look, but how we judge them to be in our heads. For example, the 'terrorist' is not an actual terrorist, she is the nurse who has saved many lives and who most importantly loves America. But because of all that has been going on in the Middle East, so many people are being categorized as terrorists because of fear and anger. I want to remind the world that these people are normal people, they are good people, and that you can't judge them without first getting to know them. I want everyone to be treated equally. This series is my voice crying out for change."
Take a look at the rest of the GIFs below. 
All images used with express permission from Parés. You can see more from Parés on his website, his Facebook, his Instagram or his 500px pages. 
h/t PetaPixel