One Publication Had the Absolute Perfect Coverage of George Clooney's Wedding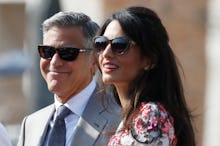 This past weekend, as George Clooney married Amal Alamuddin in Venice, most of the media coverage focused on the fact that Clooney, the successful actor who's been described as "one of the world's most eligible and sexy stars," was marrying a lawyer. 
The New York Daily News wrote that the "Hollywood heartthrob" has "finally uttered the words that he'd long sworn off," while E Online reported that "the famous Hollywood hunk said goodbye to his bachelor days."
But as a myriad of publications covered the wedding as though the greatest man in the world was marrying some random lady, one publication perfectly nailed it:
"Amal Alamuddin, a 36- year- old London-based dual-qualified English barrister and New York litigation attorney who has long been a high-profile figure in international refugee and human rights law has gone against the trend for professional women in her field and married ... an actor," wrote Amanda Rose of Thethe Business Woman Media. 
Rose went into a long, and welcome, list of Alamuddin's professional accomplishments, including representing the controversial WikiLeaks whistleblower Julian Assange as well as her various academic achievements. It wasn't until the end of the story that Clooney was given much consideration. 
"Little is known of Amal's earlier relationships (we assume she was climbing that corporate ladder and smashing glass ceilings) but she's tying the knot with an actor, whose name is George Clooney, we're told. He's probably a nice man, but seems to be a bit clingy, as since she met him it's hard to find a photo or footage of Amal without him hanging around in the background.
"We only hope he doesn't hold her back from conquering the world. We think this George Clooney fellow has scored big time. He's been quoted as saying he was 'marrying up' ... we agree."
Marrying up? Lest we forget Clooney's infamous "nipple suit Batman." Image Credit: AP
Of course, Clooney is an internationally loved and celebrated actor with a number of awards and successful movies, but that should not take away from the fact that his new wife is a very successful and talented woman. Arguably, this wedding wouldn't have had nearly as much coverage if Alamuddin was marrying a non-celebrity, but that doesn't mean we can ignore Clooney's bride just because she isn't a famous Hollywood actor. 
So, good job, Business Woman Media, you won the Internet this past weekend. 
h/t Think Progress