'SNL' Skewers the NFL and Roger Goodell in Two Hilarious Season Premiere Sketches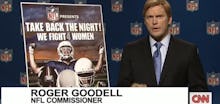 On Saturday night's premiere of the 40th season of Saturday Night Live, the venerated sketch show took steady aim and landed a few well-deserved shots at the NFL and its recent scandals and mishandlings of domestic and child abuse and general violent tendencies. 
First: Featuring host Chris Pratt as commissioner Roger Goodell, Kenan Thompson as Ray Lewis and Jay Pharaoh as Shannon Sharpe, the episode's cold opening highlighted just how screwed up the NFL has been in the past few weeks — from their approach to the situations and to the ways analysts like Lewis (who's had his own legal problems) are providing a steady stream of non-comments on the issues. Take a look:
Leave it to SNL to remind us how hilariously absurd these tragic situations have become. 
Second: Later in the episode, SNL took it to the NFL again with a skit that introduced players from the Baltimore Ravens and Carolina Panthers but with a bit of a twist. 
"Accountability that's what the NFL is all about, and I think you'll see that reflected in today's player introductions," says Beck Bennett, spoofing NFL broadcaster Jim Nantz.
Instead of introducing each player by position, they provide their name and the crime the committed, which range from "manslaughter" and "treason" to "I brought an assault rifle to a barbecue" and "a whole bunch of stuff."
It's a sad day when these absurd jokes ring true and hit so close to home. While the NFL has always had its issues, the recent revelations surrounding players like Ray Rice and Adrian Peterson show just how bad America's favorite sport has become. 
h/t Bleacher Report