A Brilliant Tumblr Is Giving Classic Book Covers a Hilarious Pop Culture Update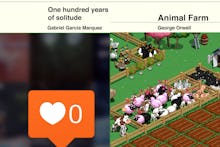 You might have heard some curmudgeonly older person gripe about how "kids these days" don't read actual books, engrossed instead in their Twitters and Snapchats. But if a Pew report from earlier this month is any indication, young people actually read a ton — and our new favorite Tumblr indicates they've got a particularly good handle on the classics. 
The Tumblr is Pop Goes the Penguin, which popped onto the Internet's radar several weeks ago. Created by Julien Britnic, the Tumblr pairs everyone's favorite 21st-century cultural references — iPhone alerts, Grumpy Cat, Kim Kardashian — with everyone's favorite classic novels. Think Virgina Woolf's A Room of One's Own meets Ikea, Of Mice and Men with an actual mouse and, of course, Lewis Carroll with a selfie.
There was no way there wasn't going to be a selfie. Who said millennials and literature don't go together? Check out our favorite covers below, and see more at Pop Goes the Penguin.