You're Being Brainwashed to Buy Beats Speakers (But You Probably Haven't Noticed)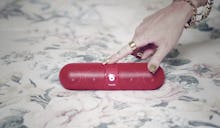 If you have eyeballs and eardrums in your proper skull-holes, you know that Beats Electronics — the headphone company birthed by Dr. Dre and bought by Apple for $3 billion — is very much about product placement. Its headphones have appeared around celebrity necks both skinny (Justin Bieber) and thick (LeBron James) and in more music videos than even the lengthiest of listicles can count. 
But the Beats Pill — a wireless speaker that looks like a hot dog and sounds like a kazoo — has reached next-level ubiquity. Since hitting shelves in 2012, the thing has popped up in music videos, at the MTV Video Music Awards and, according to Beats President Luke Wood, in corporate boardrooms. The exact number of times these little buggers have been planted, shot, and disseminated to us remains one of life's greatest mysteries. Sometimes it happens so quickly you don't know what hit you. But based on our wholly unscientific method, 17 instances of Beats Pill product placement sounds about right. Here are those instances.
In Ariana Grande's "Break Free" video
Ariana Grande's video for "Break Free," one of the most ridiculous and wonderful things in recent memory, features a six-legged elephant/lizard alien getting a smooch from the star in the heat of some Beats Pill-fueled moment, because music be the food of love.
Mike WiLL Made-It's "23" video
In this video, Mike Will lives out every teenager's dream and hijacks a high-school PA system to play some jams and throw a party in the gymnasium. But because he does it with a Beats F'in' Pill, what unfolds is an all-out rager, complete with Miley Cyrus, Wiz Khalifa, Juicy J and a bunch of Chicago Bulls gear.
In Britney Spears' "Work Bitch" video
In this video, one of Britney Spears' backup dancers discovers that the Pill can double as a BDSM gag. Possibly a symbol for mass strangulation via capitalism? Or perhaps a symbol for "buy the Beats Pill."
Lily Allen's "Hard Out Here" video
This plug is particularly bad, for the same reason it was bad of Allen to use a bunch of half-naked nonwhite backup dancers to "satirize" sexism in this music video. Plugging a product ironically doesn't make it less of a plug; it shows you think your fans are idiots. 
Chris Brown's "New Flame" video 
Standard. Beats Pill, Beats iPhone app, enticing reproductive area, impractical swimwear.
Nicki Minaj's "Pills N Potions" video 
This particularly subtle plug comes in "Pills N Potions," a pretty song about taking pills to avert a bummer. But among the bummer-averting pills in this video is a Beats Pill, which is clever because "Pill" and "pill" are the same word, but stupid for every other conceivable reason.
In RadioShack's Robin Thicke commercial
This RadioShack clip, which reimagines Robin Thicke's very rapey song and video as a very rapey Beats advertisement, doesn't really count as product placement, being an ad and all. But it gets an honorable mention for proving that yes, the Beats Pill is the most phallic speaker $199.95 can buy.
Ty Dolla $ign's "Or Nah (Remix)" video 
This frame doesn't only feature a Beats Pill (blurred, in the background), but also exhibits the Beats iPhone app, which is basically Spotify. Here, Ty is using the app's "Sentence" function, which lets you pick a location, mood, your company and a genre, then plays a song to match them all. As you can see, Ty Dolla $ign is at home, feeling like making bad choices with his boo to the sounds of old skool dance.
Nicki Minaj's "Anaconda" video
In what's decidedly the least controversial thing about this video everybody's shocked exists: There's a Beats Pill in that skull!
JUCE's "(H)ours" video
Synthpop trio JUCE is a pretty unlikely Beats Pill pawn. They're slightly alt, from England, wear fanny packs and nobody's heard of them. But indie cred aside, when you've got a fanny pack to fill, why not try a Beats Pill?
Jessie J's "It's My Party" video
"BEATS! YEAH!"
Nicki Minaj's "High School" video
This frame would be easy to miss if you weren't scouring Nicki Minaj videos for Beats sponsorships like a weirdo. It flashes by in an instant during a scene of some serious Nicki/Lil Wayne lovin'. But after the video ends, as though Beats were miffed by their lack of screen time, this frame fades in:
You know, in case they need to make a sequel.
Miley's "We Can't Stop" video
The mecca. This video, for "We Can't Stop," features Miley doing Miley — partying all night, twerking, being About That Life, dancing with molly, and getting generally turnt up — all to the sweet sounds of a Beats Pill.
Jessie J, Ariana Grande and Nicki Minaj's "Bang Bang" video
Maybe Apple got a three-for-one endorsement deal on this video?
Azealia Banks' "Yung Rapunxel" video
It's an aspirin! It's a breath mint! It's a Beats Pill! (Side note: This video is awesome and terrifying.)
This sad Apple/Beats acquisition ad
When Apple announced that they'd acquired Beats, they tweeted out this video (which has since been deleted) of Siri telling two adorable anthropomorphic Beats Pills they aren't invited to one of Dr. Dre's parties. The cute Beats get sad. You might feel sorry for them — so sorry that you consider rushing out and buying a pair to give them a good home. But don't be fooled. The anthropomorphic Beats are not real, God is still dead and you are still alone in your room, watching every popular music video you can think of to see if it might feature a Beats Pill.
This listicle, sponsored by Beats
Just kidding! No money was exchanged in the making of this listicle. [Ed. note: All back payment by Apple, Beats by Dre and Dr. Dre himself can be directed to the author via PayPal.]
Did we forget one of the gazillion more instances of Beats Pill product placement? If so, email us here or tweet us here.