Jets Quarterback Geno Smith Curses at Fan After Loss Then Apologizes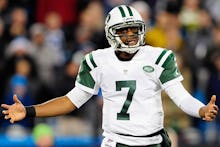 Geno Smith's performance in Sunday's loss to the Detroit Lions was lackluster enough, but the New York Jets quarterback's reaction to the team's third straight defeat was even worse.
Smith was caught by a WCBS-TV camera yelling an f-bomb at a heckling fan while jogging off the field after the 24-17 setback at MetLife Stadium.
The second-year quarterback went 17-of-33 for 209 yards, with a touchdown and an interception and his 15-game streak of failing to score a passer rating above 100 continued to extend. He's had eight turnovers in the four games and was booed lustily as circumstances worsened for the home team.
When Smith walked off the field Sunday, he stared down one heckler and lost his cool with a "Fuck you."
But Smith was quick to cool down and apologize for what he did. He opened postgame comments with: "First of all I want to apologize if any kids saw me saying any negative remarks walking off the field. I kind of let my temper get the best of me in that situation, and it's a part of my learning process. 
"No matter what happened, I've got to not feed into it. I understand the fans want to come out and see victories. We do too as players. [I] can't even begin to talk about that because what I did was wrong. Two wrongs don't make a right."
Smith enjoys complete support of his teammates and coach who denied any possibility of a reinforcement.
"That stuff, to me, is B.S.," wide receiver Eric Decker said. Head coach Rex Ryan also confirmed that Smith will start in San Diego next week.