ESPN's Domestic Violence Panel Is Missing Something Important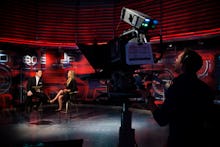 Correction: The original opening sentence of the Esquire article in question was widely interpreted as saying that ESPN was set to run a special panel, hosted only by men, which would address the specific subject of domestic violence in the NFL.  The pre-game show was to run as normal, with a segment on domestic violence. We regret the error.
Actual women.
With ongoing outrage over the NFL's recent slew of scandals, it made perfect sense when ESPN announced it will hold a panel on domestic violence Monday night. But as the two organizations geared up this discussion about women and abuse in the world of sports, it quickly became painfully clear that women had been completely excluded from the table. 
As Esquire's Ben Collins pointed out last week, the panel will consist entirely of male commentators, while female reporters will be literally sidelined in the discussion.
"Up to 11 men, all between the ages of 39 and 74 will sit at the table for a domestic violence discussion on ESPN. Zero women. Victims of domestic violence in America are most likely to be women aged 20-24," Collins wrote.
"When the show has updates from the field — brief reports about injuries and the upcoming game — they'll cut to female sideline reporters, Lisa Salters and, on some weeks, Suzy Kolber. These people are not allowed at the table."
What an oversight. The utter failure to include a single woman in a discussion about domestic violence has already attracted a ton of criticism online:
But that's not all. While it might be easy to dismiss an incident like this as unintentional, Collins rightly points out that ESPN's track record on holding the NFL accountable is not that great. And why should it be, given the lucrative, multibillion-dollar partnership the two organizations enjoy?
"You will not hear these words because ESPN is not a company in the business of journalism. It is an entertainment outlet that sometimes reports convenient, timely information to drive interest in future programming," Collins writes. "There are 11 seats at the table at ESPN. All of them go to men. Women get their own table, but only sometimes — and ESPN has placed that table where no one can hear them."
This scandal has given ESPN the chance to decide whether it wants to be an outlet for responsible sports journalism or a profit-driven hype man for the NFL. And we may already have the answer.