Hong Kong Protesters Are Making History — And It's Being Livestreamed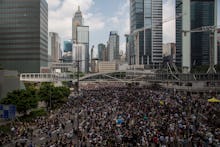 The news: Hong Kong's "umbrella revolution" suddenly erupted across global headlines over the weekend, and it looks like it won't go away anytime soon.
The wave of protests, named after the rows of umbrellas people have used to shield themselves from pepper spray, is being described as a "historic standoff" and marks the biggest act of civil unrest since the former British colony rejoined China 17 years ago.
You can watch the protest in the live stream below, courtesy of HK Apple Daily:
What is happening? Early Monday morning, riot police fired tear gas and led a baton charge through the crowd of thousands who gathered to protest around Hong Kong's business center. Despite calls from the police and the pro-democracy movement's own leaders to retreat, protesters donned plastic capes, goggles, and masks to face off against the riot police's pepper spray and tear gas.
Around 80,000 people are estimated to have taken part in the protests over the weekend; 78 have been arrested, while more than 100 have been wounded. 
Some organizers have tried to dissipate the crowds over concerns that the police might resort to firing rubber bullets. Although the government has claimed it pulled back its riot police, groups of protesters seized control of major roads to the commercial districts Monday afternoon. Many banks and schools remain closed, and protesters have also blockaded the government complex, camping out around the buildings overnight.
Civil unrest has not been limited to the streets, either: In response to photos and videos of the protests being shared online, Chinese authorities blocked Instagram in Hong Kong and throughout China on Sunday, while the "Occupy Central" hashtag has been banned on Weibo, the Chinese equivalent of Twitter.
Why is this happening? There has been widespread discontent over China's handling of Hong Kong's 2017 election. The long-awaited vote will mark the first time that Hong Kong residents can vote for their own leader, as promised in the historic transfer from the United Kingdom to China.
But there have been serious concerns regarding Hong Kong's transition into an autonomous region with full democracy. The Chinese government has indicated that it will maintain "comprehensive jurisdiction" over Hong Kong, and last month it announced that candidates for the 2017 Hong Kong election will have to be vetted by the Communist Party in Beijing — precisely the opposite of the freedoms it promised Hong Kong decades ago.
While a pro-democracy protest by a group called Occupy Central With Peace and Love was planned for later this week, students began taking to the street Friday, leading the two groups to merge efforts. And as news of riot police cracking down on protesters spread, the movement swelled in response as outraged people took to the streets to stand up against police brutality.
Since then, protest leaders have issued a list of demands, including: "repeal of the new election framework; resignation of the city's unpopular top official, Chief Executive Leung Chun-ying; and the reopening of a public plaza within the main government compound to allow for protests."
There has also been a solidarity protest in Taiwan, which had its own "sunflower movement" against Beijing earlier this year. While the history and the goals behind these two protests might be disparate, there is a shared experience of grievances against China, and they're not likely to go away.