44 cheap things that save you from having to buy expensive crap
From glue that fixes pretty much anything to reusable paper towels, it's all here.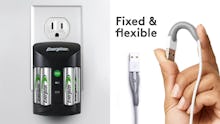 Amazon
We may receive a portion of sales if you purchase a product through a link in this article.
There's always a cheaper way to get a job done, and if you're budget-conscious like I am, digging around a little on Amazon can pay real dividends. One of my favorite products on the list is this ultra-versatile glue that you can mold with your hands to fix just about anything.
There are also myriad DIY items that revive your living space, like this peel-and-stick backsplash. All of these solutions make your life easier, and they'll save you a fortune. Time to shop!