44 cheap things that save you from having to buy expensive crap
From glue that fixes pretty much anything to reusable paper towels, it's all here.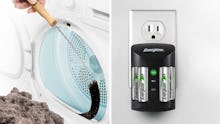 We may receive a portion of sales if you purchase a product through a link in this article.
There's always a cheaper way to get a job done, and if you're budget-conscious like I am, digging around a little on Amazon can pay real dividends. The site offers up some amazingly inexpensive alternatives to what you'd traditionally have to spend a lot of money on, including these cheap problem-solving things that save you a ton of cash.
One of my favorite products on the list is this ultra-versatile glue that you can mold with your hands to fix just about anything, from shoes with detached soles to electrical cords that have frayed. It's waterproof, heat-resistant, and comes in a wide variety of colors.
There are also a myriad of DIY items that revive your living space, like this peel-and-stick backsplash that puts subway tile in your kitchen without you having to hire someone to install it. (It's available in nine colors, too.) Plus, you can restyle any room with zero effort, thanks to these velvet throw pillow covers that revamp your existing ones. All of these amazing Amazon solutions make your life easier, and they'll save you a fortune. Then you'll be free to do other things with your money (like spend it on yourself), so get shopping now.
This article was originally published on