Aly & AJ were caught in the crossfire of the Sacramento mass shooting
The pop duo tweeted that everyone on their team was safe — and that "we have to do something about gun violence."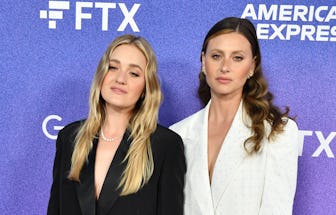 ROBYN BECK/AFP/Getty Images
Aly & AJ's touring group was in the middle of a mass shooting on Sunday in downtown Sacramento that killed six and left 12 others injured. The pop duo tweeted that their tour bus was "caught in the crossfire" of the shooting that reportedly involved multiple people after a fight broke out.
"Distraught by the mass shooting last night outside the venue in Sacramento," an initial tweet from the stars' account read. "All of our thoughts are with the families of those who lost their lives and those recovering today. We're praying for the health care workers caring for them. We hope all our fans made it home safe.'
The pop stars were on tour and had a show in downtown Sacramento that had finished on Saturday night by the time of the shooting that occurred around 2 a.m. In a second tweet, the pair said that nobody on their team was harmed, before calling for action against gun violence: "Our bus was caught in the crossfire but we sheltered in place and everyone in our touring group is ok. Thank you for everyone reaching out. A reminder to keep your loved ones extra close today. We have to do something about gun violence in this country."
Mic reached out to Aly & AJ's team, who have declined to comment further.
Since the mass shooting — the worst in the history of Sacramento — California Gov. Gavin Newsom put out a statement that read, in part, "The scourge of gun violence continues to be a crisis in our country, and we must resolve to bring an end to this carnage." Meanwhile, in his own statement from the White House, President Joe Biden mourned the victims while calling for specific legislation from Congress that included banning assault weapons and increasing funding for police.
"Ban ghost guns. Require background checks for all gun sales. Ban assault weapons and high-capacity magazines. Repeal gun manufacturers' immunity from liability," Biden's statement read, in part. "Pass my budget proposal, which would give cities more of the funding they need to fund the police and fund the crime prevention and intervention strategies that can make our cities safer. These are just a few of the steps Congress urgently needs to take to save lives."
Update: Aly & AJ have also tweeted a statement to honor the victims of the shooting, listing each of them by name and age.