Arcade Fire frontman Win Butler has been accused of sexual misconduct
Butler admitted that he "fucked up" but maintained that all of the interactions were consensual.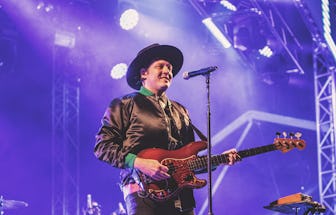 SOPA Images/LightRocket/Getty Images
Warning: This article contains descriptions of sexual misconduct and suicide.
In a lengthy investigative report by Pitchfork, four people have come forward to allege sexual misconduct by Arcade Fire frontman Win Butler. It's quite the revelation, considering Arcade Fire's status as not just Grammy-winning and arena-touring indie rockstars, but as a beloved band that's vocally supportive of progressive politics and social issues.
All four of the people to come forward have done so under pseudonyms, and all detail similar accounts of behavior that illustrate a disturbing predatory pattern. From their accounts, it appears that Butler for years allegedly sought out young fans to begin coercive online sexual relationships, with some turning into abusive in-person sexual encounters. All four victims were between the ages of 18 and 23 when the incidents allegedly took place between 2016 and 2020, while Butler was in his mid to late-30s. Pitchfork corroborated their stories with friends and family who were told of the unwanted behavior from Butler around the time that the allegations occurred, and reviewed corroborating texts and DMs between Butler and his accusers. All four people recounted being sent unwanted sexts and being pressured to reciprocate, and one person alleges that Butler assaulted them on two occasions in 2015. All four of the victims recount psychological distress caused by Butler's alleged incessant sexual pestering, and one attempted suicide after a sexual encounter with Butler.
Butler released two statements to Pitchfork, through New York-based crisis public relations expert Rita Heller. He has denied the allegations of sexual assault, and maintained that all of the interactions were consensual. He added that through therapy and Alcoholics Anonymous meetings, and that he is "more aware now of how my public persona can distort relationships even if a situation feels friendly and positive to me." He continued, "I fucked up, and while not an excuse, I will continue to look forward and heal what can be healed, and learn from past experiences." In a supportive statement, Chassagne also added, "He has lost his way, and he has found his way back."
Mic will provide more details as this story develops.