The 5 best deodorants for eczema, according to a dermatologist
We only recommend products we love and that we think you will, too. We may receive a portion of sales from products purchased from this article, which was written by our Commerce team.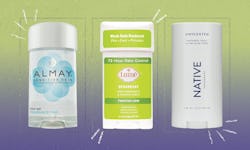 Mic/Amazon
If you have eczema, you may have found that many skin-care products — including deodorant — can cause irritation. "Exposure to certain allergens or irritants can trigger eczema flare-ups," Marisa K. Garshick, M.D, a board-certified dermatologist in New York City, tells Mic. "In the context of deodorants, common triggers can include fragrances, propylene glycol, essential oils, parabens, and other preservatives." That's why the best deodorants for eczema help with unwanted body odor while being free of many potentially irritating ingredients. There are also eczema-friendly antiperspirants that help block sweat and keep your underarms dry.
Because fragrances are one of the leading causes of contact allergies, many deodorants for sensitive skin are fragrance-free as opposed to just "unscented," since even unscented formulas may still contain fragrance. However, if you prefer a scent for additional odor neutralization and aren't sensitive to fragrance, you can choose a deodorant with naturally derived or synthetic fragrance. Either way, it's a good idea to perform a patch test when using a new deodorant, even if it contains only natural ingredients like essential oils or baking soda, which are both potential irritants for those with eczema. As Dr. Garshick explains: "It is important to remember that just because something is natural does not mean it can't cause a reaction or problem, especially in someone with eczema."
You'll also want to consider deodorants versus antiperspirants. Where a deodorant works to prevent bacteria growth and unwanted body odor when you sweat, an antiperspirant often contains aluminum to actively reduce or prevent you from sweating. Your choice comes down to personal preference, but if you tend to sweat a lot, Dr. Garshick encourages considering an antiperspirant. "It is important to still use antiperspirants, even with eczema-prone skin, as the increased moisture that can result from sweating can actually lead to an irritant contact dermatitis," Dr. Garshick explains.
Read on for the best deodorants (and antiperspirants) for eczema in a variety of skin-friendly formulas, so you can find the one that won't irritate your skin.
Expert:
Marisa K. Garshick, M.D, a board-certified dermatologist based in New York City