It sounds like Bill Murray did something he really shouldn't have
While remaining vague, the actor confirmed that a complaint against him halted the production of his latest film.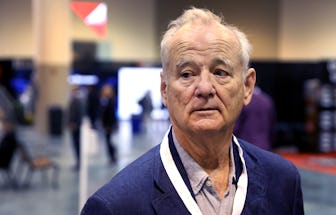 Scott Olson/Getty Images News/Getty Images
Speaking at the Berkshire Hathaway annual meeting of all places, Bill Murray addressed and confirmed the recent controversy around his conduct on the set of Aziz Ansari's new film, Being Mortal. Appearing apologetic while remaining vague, the actor spoke to CNBC in his first public comments since news broke in April that Searchlight Pictures had sent a letter to the cast and crew of Ansari's directorial debut, stating that the studio was suspending production indefinitely.
"I had a difference of opinion with a woman I'm working with," Murray said. "I did something I thought was funny, and it wasn't taken that way." No official word had been previously made about what specifically paused production on the film that also stars Keke Palmer, Seth Rogen, and Ansari, although a complaint had been reportedly made against Murray for inappropriate behavior.
"Late last week, we were made aware of a complaint, and we immediately looked into it," the letter from Searchlight to cast and crew read, in part. "After reviewing the circumstances, it has been decided that production cannot continue at this time."
"The movie studio wanted to do the right thing, so they wanted to check it all out, investigate it, and so they stopped the production," Murray told CNBC. "But as of now, [I and the offended party] are talking. We're trying to make peace with each other. … We're both professionals. We like each other's work. We like each other, I think."
The 71-year-old actor was careful not to go into details about what exactly transpired, while offering an ambiguous statement of regret about struggling to move in step with the times. "It's been quite an education for me," he said. "I've been doing not much else but thinking about it for the last week or two. The world's different than when I was a little kid. You know, what I always thought was funny as a little kid isn't necessarily the same as what's funny now. Things change. Times change. So it's important for me to figure it out."
Despite the comments from Murray, who has in the past been at the heart of conflict on-set, no news has come out about the fate of the production moving forward. "It's a sad dog that can't learn anymore," Murray said. "I really think that's a really sad puppy that can't learn anymore. I don't want to be that sad dog and I have no intention of it. What would make me the happiest would be to put my boots on and for both of us to go back to work and be able to trust each other."