Bombas Compression Socks might be even better than the originals, according to fans
Finally, comfy compression socks with style.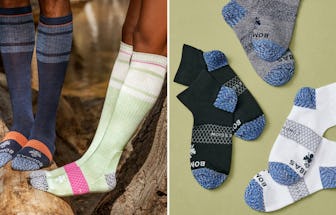 We may receive a portion of sales if you purchase a product through a link in this article.
You might choose compressions socks because of the way they can help improve circulation and prevent swelling, or because that snug sensation just feels so good, but there's about to be one more reason: The cult-sock brand Bombas now offers stylish compression socks that also happen to come loaded with the company's signature features that fans already know and love, including extra arch support and seamless toes alongside targeted cushioning.
And you can buy these compression socks in multiples to pad out your sock drawer, knowing that for every pair you purchase — yes, even six-packs — an equal number of pairs will be donated to the people who need them most.
The compression lineup
Bombas offers a range of medical-grade compression socks, as well non-medical-grade socks designed for extra hold. To help you find the right pair, know that compression is measured in millimeters of mercury (mmHg), and the higher the number, the greater the squeeze. Bombas' medical-grade options range from 15-20 mmHg — in its Everday compression sock — up to 20-30 mmHg with its Performance compression offerings, which provide light to medium compression, respectively. If you simply want your basic sock to provide more support, turn to the Targeted compression or low-rise Ankle compression offerings, which while non-medical grade, still have fans describing them "like a huge for your feet," thanks to their tighter knit, snug fit, and strong elastic.
With that in mind, it's time to find your perfect pair. The picks below all come in men's and women's options — but, of course, the only real difference between the two is the sizing and colorways, so shop whichever fits your needs best.
1. The performance compression socks
If you're training for an upcoming race, Bombas Performance Socks will come in handy; not only can they comfort and support sore feet thanks to a moderate, 20-30 mmHg level of compression, they're also made with the brand's proprietary Honeycomb arch support and stay-up cuffs that are so essential to calf-height socks, with air venting to help keep feet dry. And buying a multipack will ensure you'll always have a couple spares for your next training session. On top of that — unlike most medical-grade compression socks — these actually look good, so you won't mind showing them off at the gym.
2. The classic compression socks
If you've got a long plane flight coming up or have a job that involves a lot of standing, the Bombas Everyday Compression Socks can come in handy. Featuring 15-20 mmHg compression, along with Bombas' signature Honeycomb arch support, these socks also have stay-up technology, to avoid any uncomfortable sagging — for a sock comfy enough to wear every day, just like the name suggests.
3. The targeted compression socks
For the supportive feel of compression socks in a conventional calf sock style, try out the Bombas Targeted Compression socks. Like Bombas' original calf socks, they have Honeycomb arch support and hems designed to stay put on your calves, with upgraded non-medical grade compression thanks to stronger elastic and a tighter knit. Left- and right-contoured for a foot-specific fit and comfort, these socks also feature air venting to help wick away moisture.
4. The ankle compression socks
Whether you're wearing them to hit the gym, go for a run, or you just prefer a more supportive ankle sock, these Bombas Ankle Compression Socks fit the bill. They've got the shorter length, Honeycomb arch support, and cushioned footbed for which Bombas original ankle socks are so beloved, with more elastane blended in for an extra-compressive feel — though note, these are non-medical grade.
5. The multipack
If you're ready to stock your sock drawer (or you just love buying in multiples to save some money), this six-pack of Everyday Compression Socks is ready for you to add them to your cart. You'll get nearly a full week's worth of 15-20 mmHG compression, Honeycomb arch support, and under-foot cushioning, plus you'll save 5% by grabbing the pack of six... So you could say it's a purchase that supports your feet and your wallet.
6. The travel set with comfy slippers
Buy this Compression Sock TravelPack as a thoughtful gift for the frequent flier in your life, even if that person happens to be you. You'll get a pair of Knee-High Compression socks — made with Honeycomb arch support and targeted cushioning — that provide 15-20 mmHg compression to help stave off pain and swelling. Meanwhile, the Gripper Slippers are ideal for wearing over your socks if you need to take a stroll up the aisle (or for wearing around your hotel room). A handy sock bag is included, so you can keep them separate from the rest of your clothing or easily stash them in your carry-on.
Basics Made Better
Before you finalize your purchase, be sure to peruse the rest of the Bombas offerings — you won't want to miss out on the socks, but Bombas also offers underwear and T-shirts, too. If thousands of devoted fans are any indication, you won't be disappointed.
Studies cited:
Lozo, M., Penava, Ž., Lovričević, I., & Vrljičak, Z. (2022). The Structure and Compression of Medical Compression Stockings. Materials (Basel, Switzerland), 15(1), 353. https://doi.org/10.3390/ma15010353
Lim, C. S., & Davies, A. H. (2014). Graduated compression stockings. CMAJ : Canadian Medical Association journal = journal de l'Association medicale canadienne, 186(10), E391–E398. https://doi.org/10.1503/cmaj.131281