These stunning, handcrafted cookies are the perfect gift
Over-the-top cookies, cool freebies, and more reasons why Cookies & Dreams should be your go-to destination for gifting.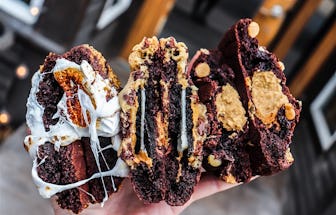 Cookies & Dreams
We may receive a portion of sales if you purchase a product through a link in this article.
I take great pride in being an excellent gift giver — after all, as a shopping editor, I spend 8+ hours a day surfacing new and interesting products. I even keep a spreadsheet with go-to gift recommendations for when friends or family ask for advice. So when Cookies & Dreams came across my virtual desk, I immediately knew it would make The List. A small, female-owned business handcrafting unique and visually stunning cookies — the brand checks all of the boxes of what I believe takes a gift from nice to truly special. They even have their fair share of clout, apparently creating cookie flavors for Nickelodeon Kids' Choice Awards and New York Fashion Week. Plus, their offerings work for almost any occasion (reminder: Mother's Day is coming up), and they ship to all 50 states.
First, let me say, I love giving gifts from small businesses with a mission. Cookies & Dreams is a proud, woman-owned and -operated company that launched during the pandemic (definitely a time when the world needed the comfort of ooey gooey chocolate chip cookies). They're passionate about supporting women and girls and have partnered with organizations like Big Brother Big Sister, Girl Scouts, and Argrow's House, a women's shelter in their community.
Of course, the baked goods are the headliner here. Thick, pillowy cookies stuffed with chocolate chips, dotted with M&Ms, topped with swaths of creamy frosting — just looking at these cookies will bring you joy which is probably why the brand is racking up Instagram followers.
Currently, Cookies & Dreams lists 15 cookie flavors online, four of which are seasonal. They have classics, like chocolate chip and peanut butter, as well as quirkier flavors like The Betty White, a sugar cookie stuffed with cream cheese filling and topped with a raspberry glaze, white chocolate drizzle, and crushed Golden Grahams.
I'm particularly in love with the idea of the Puppy Chow cookie, which feels like a true celebration of the brand's Mid-West roots (the company is based in Davenport, Iowa). For those of you unacquainted with the heartland's favorite snack, Puppy Chow is Chex cereal drenched in melted chocolate and peanut butter and then heavily dusted with powdered sugar. Now imagine that on top of a cookie.
In terms of gifting logistics, you can buy the cookies in packs of four, six, or 12, and custom mixed boxes are available in packs of six or 12. For context, each cookie weighs roughly between 5 and 7 ounces, making them more of an event than a snack. Several of the cookie flavors are also available as 9-inch cookie cakes.
The cookies are baked the day they're shipped and should arrive within two days of being posted. However, according to the Cookies & Dreams website, to ensure freshness, they will only ship cookies Monday through Wednesday to avoid shipping delays that could leave cookies stranded at the post office over the weekend. Any cookies ordered after Tuesday at midnight won't be processed till the following week. So plan ahead.
Shop Cookies & Dreams
Cookies & Dreams doesn't just have cookies either, you can also buy their gourmet puppy chow mix or signature cookie frosting a la carte, and they have a gifting section that includes cookie-themed items like candles and spa products. Right now, you can even get freebies with your purchase, like a milk moisturizing face mask or jumbo satin scrunchies.